LuxTac High Lumen Flashlight 6000LM High Power USB Rechargeable Flashlight
The LuxTac is a high lumen rechargeable flashlight that can be used in almost any situation, from home use to emergency situations.
Camping
Walking the Dog
Nighttime Hunting Searches
Large Area Lighting
Roadside Emergency Lighting
Power Outages
& Many More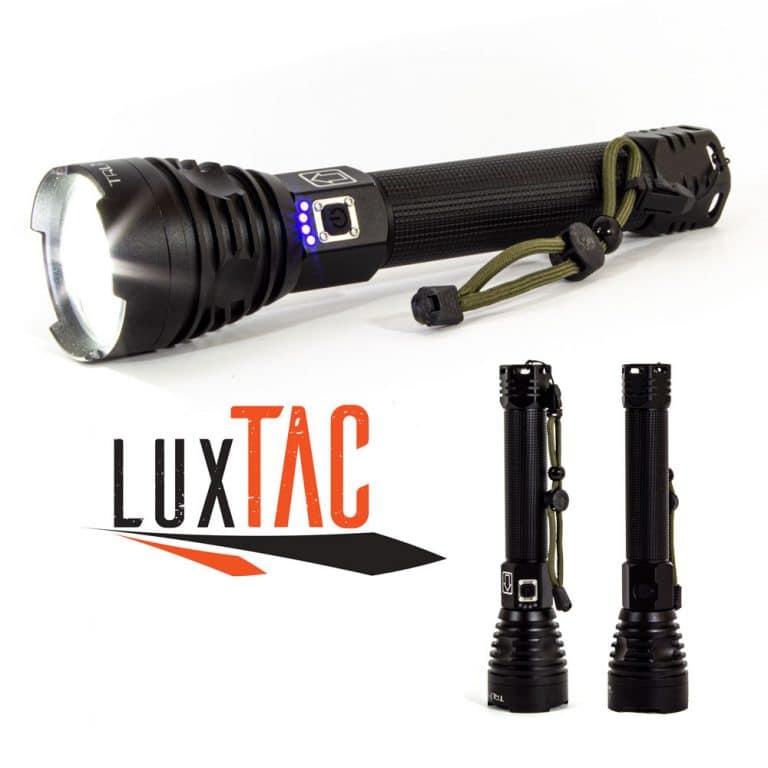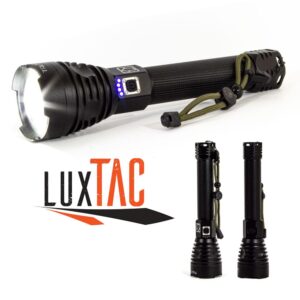 While having a powerful light is important, knowing you can rely on the flashlight to work when you need it is just as critical. Since this flashlight is rechargeable by micro USB and has a life display on the handle, you don't have to worry about dead batteries if you have access to an outlet or solar charger. This flashlight charges in in just 6 hours.
Use the LuxTac flashlight in any weather situations, given a IPX-6 waterproof rating. While this device is not a fully waterproof flashlight (you can't submerge it in water) but this flashlight will work in heavy downpour rains and any adverse conditions you may be facing.
Specifications:
Brand: LuxTac
Waterproof Rating: IPX-6
Range: Above 500 meters
Zoomable: Adjustable
Focus Mode: 3 mode
Model of LED Beads: XHP90
Body Material: Aluminum Alloy
Lens material: Convex Lens
Emitting Color: White Light
Battery Type: 2*18650 rechargeable batteries
Charger: Micro USB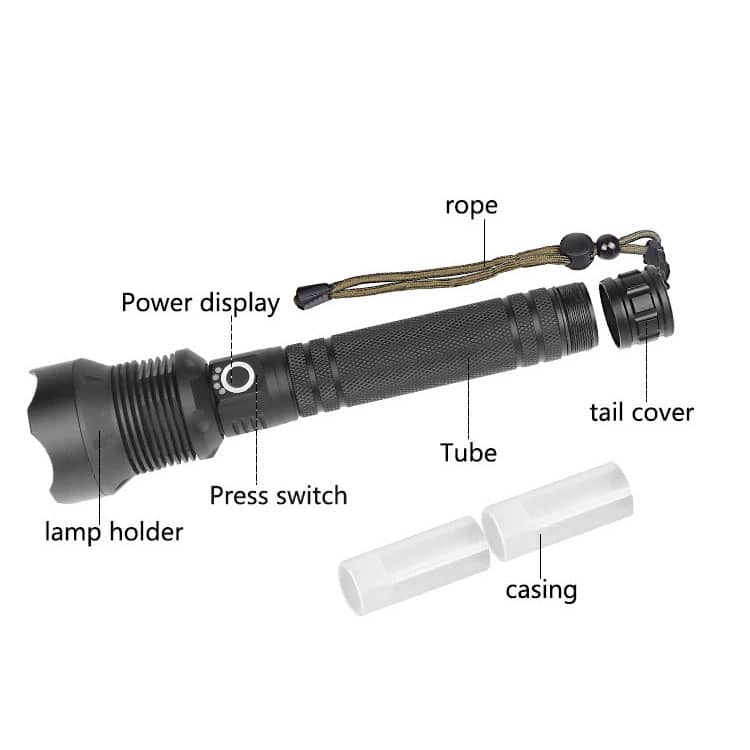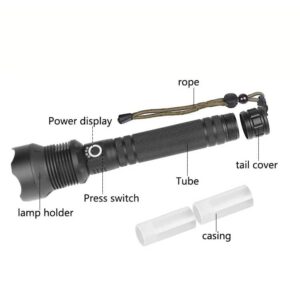 Utilizing the latest gen of LED chip XHP60 for super bright output, this is one of the brightest rechargeable flashlight on the market today. Don't be caught without light when you need it most.
Other Important Features:
Aluminum Alloy Exterior – An extra-hard aluminum body is extremely durable, wear-resistant and shock-resistance to endure anything you throw at it.
3 Illuminating Modes – By just toggling the On/Off button, there are 3 settings of High, Low & Strobe.
USB Rechargeable – By using the included Mirco USB cable, you can charge this flashlight with any USB adapter or powered device. Also charge on the go with USB solar panel or battery bank. Takes only 6 hours to to charge.
Power Display – Convenient power display to see exactly how much battery life you have left. With the power indicator you have a 4 light display indicating how low the flashlight is. Also flashes the lights when flashlight needs to be charged.