Never worry again on the road, when you have the ultimate tool for any auto emergency you may come across. The Driver DEFENDER is a must have in your car and kept close by. With at least 9 different functions that can help you in extreme circumstances. In today's world you can never be too prepared, and this tactical flashlight makes sure you are just that.
Driving in today's world can be pretty scary.
There are a lot of bad drivers on the road, and worse, you can never be quite sure when your own car could breakdown either.
Imagine being in any of these scenarios:
You got in a car accident, and the seat belt is stuck due to the accident. You need to get out but can't get the seatbelt loose. Keeping this tool close in the car, you can immediately cut the seatbelt allowing you to get yourself to safety outside of the vehicle.
Your car goes off the road, and you get stuck in a flooded bank or a deep snowbank and can't open your door. Being able to quickly break the glass and getting yourself to safety can't make the difference between life and death.
Your car breaks down on the side of the road, and now you realize your phone is dead. The battery bank in your Driver Defender has been charging its battery bank with its solar panels all day long. A few minutes connected to the battery bank and your able to make the necessary phone call.
Need to change a tire on the busy highway after dark? By turning on the flashing red bright LED lights, and attaching the strong magnet to the side of your car, everyone approaching will be alerted to your vehicle and slow down.
The Driver DEFENDER is loaded with functions that can get you out of trouble, or keep you safe when you need it most, giving you the one thing no amount of money can buy – peace of mind.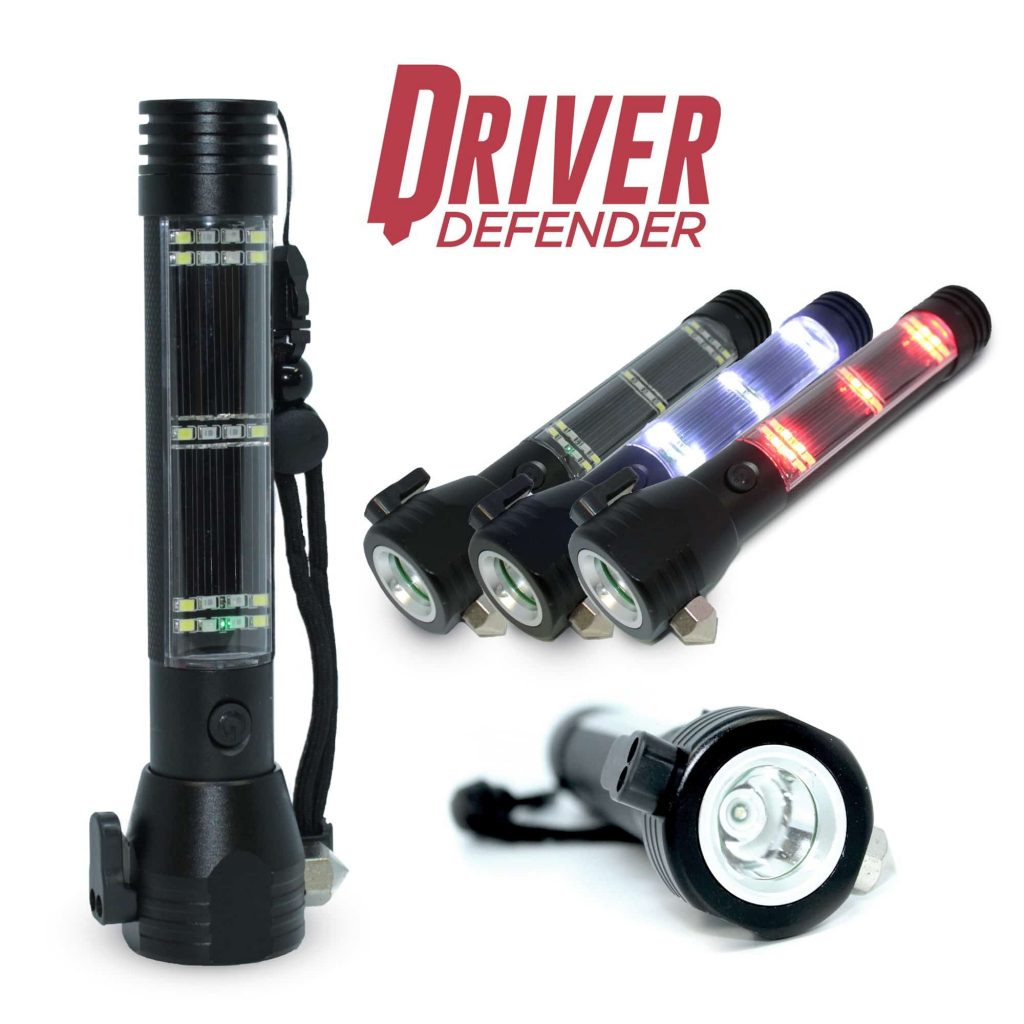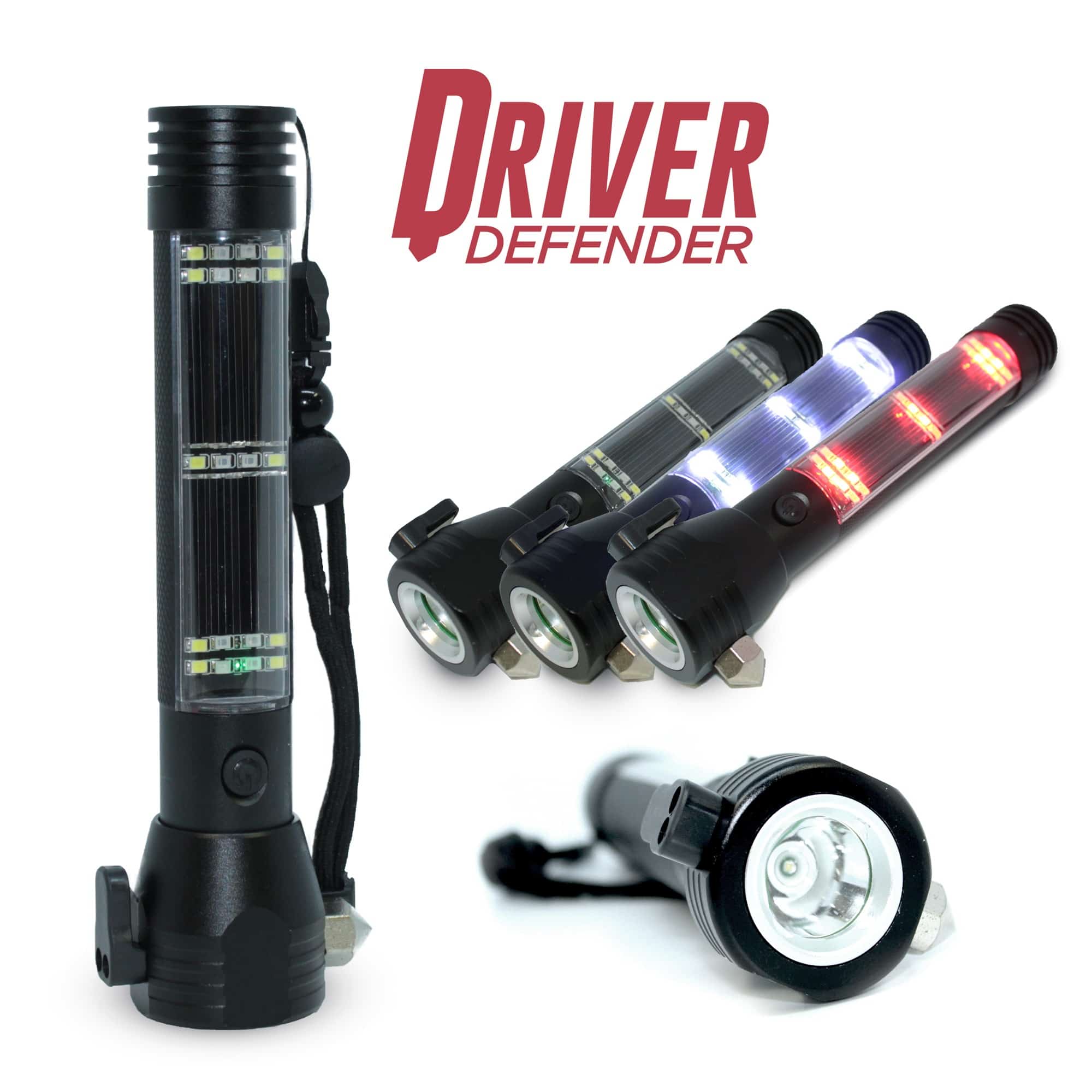 Features:
200 Lumen Main Flashlight (3W LED) (High, Low & Strobe Settings)
Side Panel LEDs (White 2835 x10, 150 Lumens) (High & Low Settings)
Side Panel Emergency Red Mode (Fast Strobe & Slow Strobe Settings)
2 Charging Modes: 5W 50ma Solar Panel & 5V Micro USB (Power In)
Emergency Glass Breaker/ Hammer
Knife for Belt or Rope Cutting
Extra Strong Mounting Magnet
Built in Compass
5V/1A USB Power Bank for Charging
Dimensions:
Length: 7.75"
Handle Diameter: 1.24"
Head Diameter: 2.5"
Weight: 10oz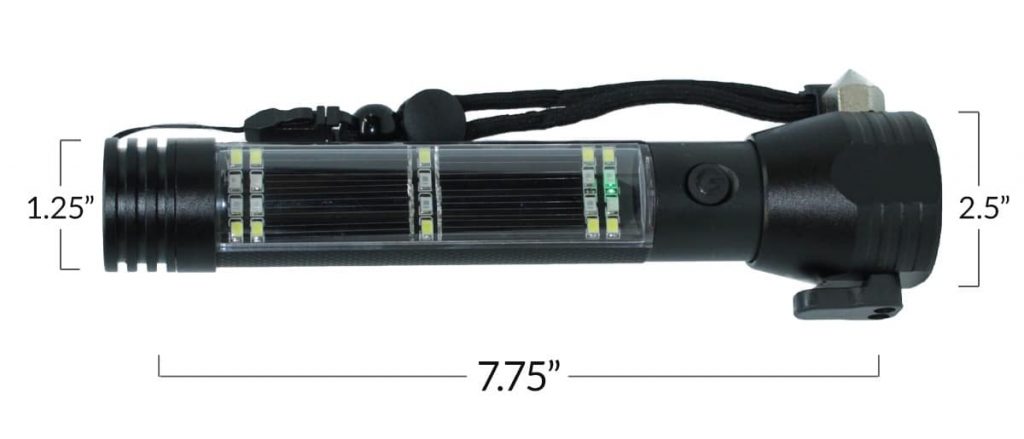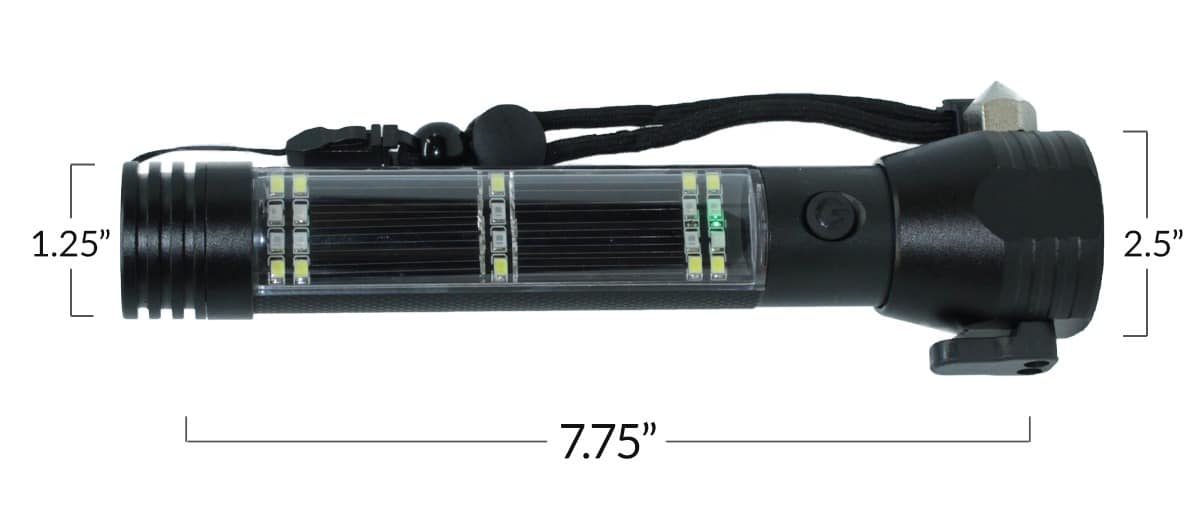 While this tool is most effective for emergencies in your car, this tool has so many uses that it can be used in almost any scenario.
It is a great idea to store this tactical LED flashlight in all of these locations:
Survival Kits
Hunting Pack
Backpacks
Vehicles
Bedside table
or Pretty Much ANYWHERE
The Driver Defender is the ultimate emergency tool to keep you safe in the car & out!