The Sirius Survival 6 Person 72 Hour Emergency Survival Kit is full of essential emergency items packed into our spacious 35L Survival Backpack that comes with our 15 in 1 Everyday Survival Kit. Every kit we make is personally packed by us in the USA and organized in our high-quality backpacks.
After any kind of natural disaster from earthquakes to hurricanes, you and your loved ones could be caught in survival situation where you need survive on your own for several days. This means you need to have food, water, warmth, and other supplies to last for at least a few days, until you can get help or find more resources. The Sirius Survival 6 Person 72 Hour Emergency Survival Kit is a well thought out group of basic survival items you may need for any emergency.
The Kit includes the following:
The packaged water and emergency food in this kit are to provide necessary nutrition for 6 people for 72 hours and have a 5-year shelf life.
36 4oz Water Pouches
54 400 Calorie Food Bars (4800 Calories in total)
20 Water Purification Tables (1 Liter per Tablet)
All these products will help during any sort of power outage, nighttime car issues, or other emergencies where power and communication are hard to come by.

Sirius Survival Flashlight
Keychain LED Flashlight
Emergency Weather Radio
4x 12 Hour Emergency Glow Sticks (4 unique colored glowsticks)
Survival Whistle
Being protected from the elements and keeping your body heat up are critical in emergency situations without power. These items will help keep you protected from rain, wind, sun and other harsh conditions that can happen.
6 Emergency Body/Hand Warmers
6 Emergency Blankets
6 Emergency Rain Ponchos
Protective Emergency Shelter (Comes with 20ft of Cord)
All these items are included for their usefulness during disasters or emergencies. From navigation to shelter to protection these will help you when needed.
Sirius Survival 15 in 1 Survival Kit that includes:
Mini Flashlight
Survival Pen with Glass breaker
11-in-1 Multitool Survival Wallet Card
Compass
Ferro Rod Fire Starter
Carabiner
S-Hook Clip
Wire saw
Survival Knife
Tinder Capsule (Comes Empty)
Emergency Whistle
Paracord Bracelet
Thermal Emergency Blanket
A first aid kit is a must – when most disasters occur there is going to be some sort of injury. This will help with minor injuries and help protect from infections or keep things under control until you can get assistance.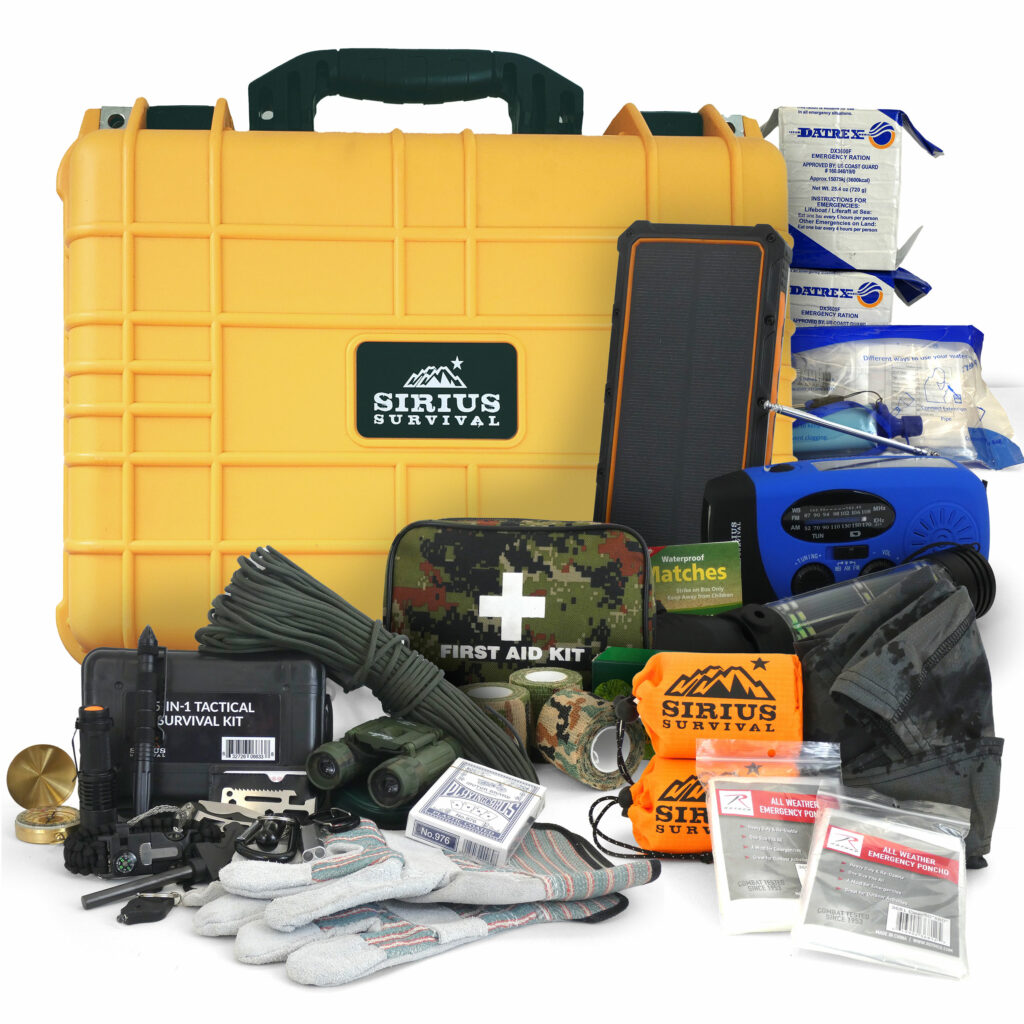 Pre-Packed Emergency Survival Kit/Bug Out Box in Hard Case for 2 – 175+ Pieces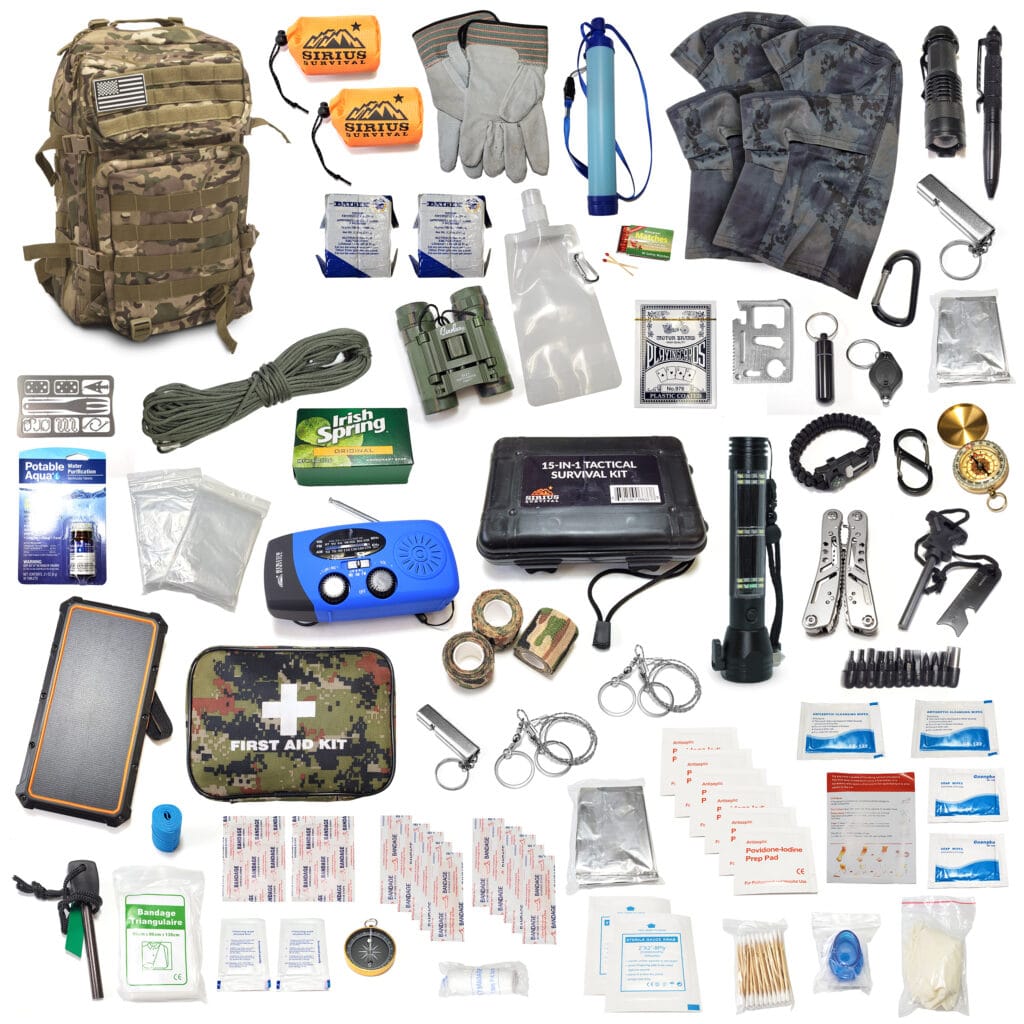 Pre-Packed Emergency Survival Kit/Bug Out Bag for 2 – 175+ Pieces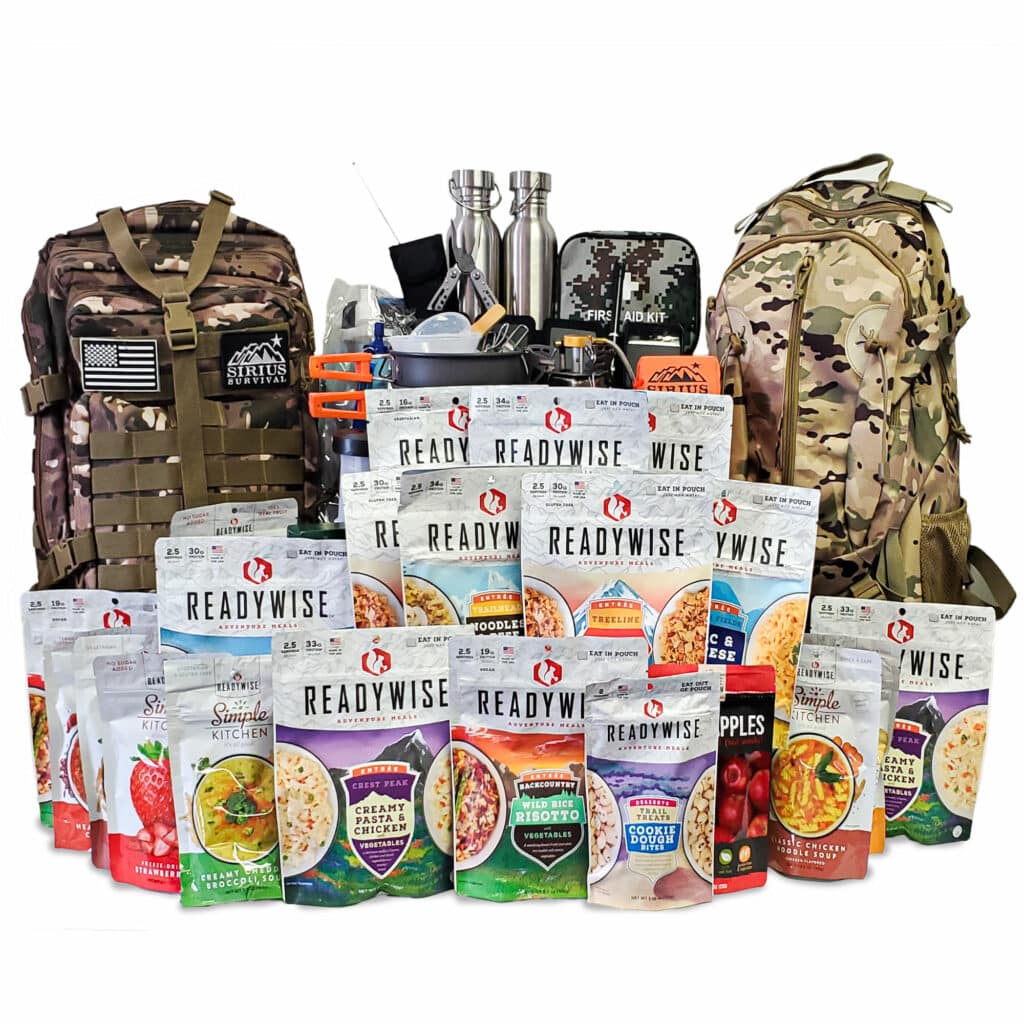 Family Comfort 72 Emergency Survival Kit/Backpack – 72 Hour Kit – ReadyWise Food & Survival Gear