Top 5 Best Solar Bluetooth Speakers on the Market
Do you enjoy being outdoors? Are you always out and about, going on adventures, spending time exploring your surroundings? Do you enjoy hiking, biking, camping, or boating? If you answered yes to any of these questions then you probably have, or want to purchase, a solar Bluetooth speaker. 
There are so many benefits from these devices. Not only do they not require an outlet to charge, but many of them are waterproof or water resistant. Most of them are extremely durable and some of them have additional capabilities, like charging you phone, answering calls, or being able to be totally submersed in water. 
So how does a solar powered speaker work?
Photovoltaic cells use energy from the sun and convert it into electricity. There are many other structures that use solar power. Homes, buildings, and even other small devices (such as flashlights, radios, etc.) can use solar panels to harness the energy from the sun. Having a solar panel on your Bluetooth speaker allows you to step away from the outlets and still be able to use your device. As long as your speaker is in the sun, and can obtain that solar energy, your speaker will not only work but it will continue to charge as well.
If you're like me, you don't like to feel confined to any one area. You enjoy spending time outside and exploring. On weekends you can be found on the hiking trails, camping, biking, out on the water, or engaging in numerous other activities. If this sounds like you then you need a solar powered Bluetooth speaker. Not only do these speakers wirelessly connect to your cell phone or other music device but it also can be charged in the sun. This allows you to step away from the outlets, cut the cords, and enjoy life the way you want to. 
Heading out on the boat? Grab your solar bluetooth speaker and go. Heading to the trails to enjoy a rigorous hike? Attach your speaker to your bag and head out. Taking the long weekend to go on a camping trip with your family or friends? Leave the chargers behind. Simply grab your speaker and your tent and go on your way. Having a solar powered Bluetooth speaker allows you to live your life with ease.
How do I know which brand is best?
When searching for a solar Bluetooth speaker to purchase you'll want to consider various things. Audio, price, charging capabilities, weather/water resistance, and extra features are all categories you should look into when deciding on which speaker to purchase. Let's take a look at each of these categories a little more closely.
Audio: To be honest, not all speakers are created equally. They do not all have the same sound. If you compared Bose headphones to a pair of earbuds you purchased at your local drugstore you'd definitely hear a difference in the audio quality. This idea rings true with speakers as well. You'll want to be mindful of the sound quality. Speakers are typically measured in wattage (W). The wattage measures how much the amplifier will put out per channel. For example a 6W speaker will put out 6 watts per channel.
Price: Just as you would expect an audio difference between drugstore earbuds and Bose headphones, you'll definitely see a price difference as well. As the saying goes, you get what you pay for. You may end up spending a bit more money to get a truly great solar Bluetooth speaker. Luckily there are so many features on these particular speakers that you are paying for not only the sound quality, but the extra features as well.
Charging Capabilities:If you're purchasing one of these speakers it is probably because you are drawn to the wireless aspect. It can be freeing to not need an outlet and a charger. With this being said, these speakers often have numerous ways to charge. You can charge it by plugging it into an outlet. It can also usually run on battery life. Most speakers come with a lithium ion battery as a backup. But probably the coolest feature on these speakers is the solar charging panel. It must be mentioned that not all solar bluetooth speakers are created equal. Depending on the solar panel there will be different storage capacities. This means that one speaker may be able to store four hours of usage while another speaker can store up to ten hours of usage. 
When you're researching the charging capacities of a speaker, you'll see mAh as the unit being used. MAh stands for milliamp Hour. Milliamp Hour measures the energy capacity of a battery. The higher the mAh the longer the device will work – the speaker uses the solar panel to convert energy which in turn charges the battery for the device.
Weather/Water Resistance: To measure how water and weather resistant a device is a particular scale is used. You'll most commonly see your speaker rated in IPX. This stands for international protection or ingress protection. Each digit on the IPX scale means something different. Here is a quick chart by TaoTronics.com, they have a good breakdown of the levels are.
Extra Features: Depending on what you want to use this device for you may be looking for a special feature. Does it come with a USB port? Can it be mounted? Is there a case? Extra features can definitely be a big selling point depending on what you're looking for.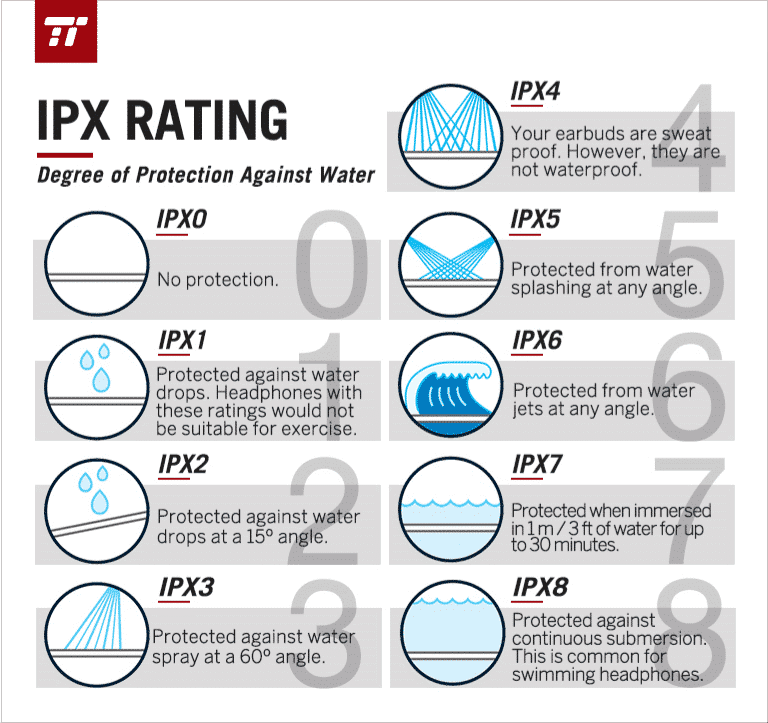 Price: This speaker sells for only $49.99 from Sirius Survival
Audio: There are two 6W speakers in this device for a total of 12W.
Charging Capabilities: This particular speaker has 2400 mAh battery storage.
Weather/Water Resistance: Durabox rates in at IPX5. This means it can withstand a 6.33mm spray of water in any direction for at least 3 minutes.
Extra Features: Some great features on this device is the microphone for hands free calling, a silica gel case for extra protection, and a 100-foot range.
The great price is definitely a plus side of this speaker. We also love that the silica gel case provides that extra protection.
This speaker only has 2400 mAh, good thing it's solar powered!
Price: This speaker retails at approximately $120. Although it is over twice as expensive as some of the other items on our list, you're getting more bang for your buck with this one.
Audio: The Sol Jam has two 10W speakers. This means a total of 20 watts. The higher the wattage the louder and "cleaner" the audio will sound.
Charging Capabilities: This device only has a 2600 mAh battery.
Weather/Water Resistance: Ecoxgear rates in at IPX7. It is able to be completely submersed in water and still work.
Extra Features: Are you looking to mount your speaker? Then you're in luck. The Ecoxgear Sol Jam has a camera style threading mount. It can also float. We've heard that the sound isn't ideal while floating, and it's more or less to keep your device from being under the water, even though it will still function if it does.
The IPX7 rating is awesome, this means it can be out in the rain, can be dropped in the pool, or be splashed on by waves and it will still work just fine. In addition it has 20W speaker system. It can float and has a three-year warranty.
The downside of this device is that it only has 2600 mAh battery life. This means less play time before charging is needed compared to some of the other speakers on this list.
Price: This particular speaker is sold for $49.99 by Sirius Survival. This is way below the price point for some of the other speakers out there. Even though it has such an affordable price is comes packed with amazing features.
Audio: The Pyramidion has two 6W speakers for total of 12W. It also has a microphone for hands-free calling.
Charging Capabilities: Obviously this speaker can be solar charged as well as with an outlet. It has a powerbank of 5000mAh – this is approximately 50 hours of playtime.
Weather/Water Resistance: With a rating of IPX6 this speaker offers protection from spraying water in any direction for up to three minutes.
Extra Features: In addition to all the above features the Pyramidion also has an approximate range of 100 feet and it utilizes Bluetooth 4.2.
Not only is this speaker affordable but it offers amazing sound quality, a large powerbank and can withstand a bit of water. It has a great distance range, meaning you can leave your speaker and be approximately 100 feet away with your phone.
The only drawback we were able to find is that this speaker cannot be mounted. If you were planning to attach this device to a ceiling or someplace outdoors you will have difficulty with that. We would have also loved if this speaker was IPX7 or IPX8 but being able to be out in a rainstorm or be splashed by waves off a boat is still pretty great too.
Price: This speaker comes in at just $26.99!
Audio: Reviews have told us that despite the small size of this device it actually has great sound. It only has a 5W speaker, which is rather small.
Charging Capabilities: It has no battery bank in this one, but it can last up to 15 hours on a full charge (plus whatever it can charge in the sun too.)
Weather/Water Resistance: This speaker has an IPX6 rating. It offers protection from a 12.5mm spray of water in any direction for at least 3 minutes.
Extra Features: Some cool extra features of this speaker are that it has Bluetooth 4.2. It's also a pretty small device, weighing in at only half a pound.
15 hours of playtime after a full charge. Includes a F52mm 5W magnetic speaker, super compact and portable.
No battery bank option for charging, while it lasts a long time while playing, pretty small solar panel to charge in the sun (they say for every minute of sun is a minute of play time, but that seems a bit inaccurate.)
Price: Retailing at only $62 this is a great deal.
Audio: Unfortunately, Eton does not publish their exact speaker wattage for the public. However reviews have told me that this device has clear and loud audio. It does have bass extending passive radiators.
Charging Capabilities: The Rugged Rukus Xtreme has 5300 mAh.
Weather/Water Resistance: This speaker was rated at IPX4. It is also considered drop proof.
Extra Features: Bass extending radiators are a great extra feature. 
The bass extending passive radiators are  great extra feature for optimum sound quality. This speaker was also rated as drop proof. In addition it has a long battery storage bank for many hours of playtime.
There is not an auto shut off function so you'll need to remember to turn it off when you're done using it. Also, we've been told that anytime you change the song or the volume there is a beep to alert you that a button has been pushed. It only has an approximate 30 feet range.
No matter which speaker you decide to purchase you will be enjoying that fact that you can unplug. Not having to rely on being near an outlet can be a wonderful thing. Especially if you're an adventurous type of person. Enjoy the solar powered speaker as you hike the trails, explore the mountains, or just hang out in your backyard.