In today's world, most of us need to remain connected to our phones at all times, including while we are driving. We rely on them for GPS, music/podcasts or even phone meetings while drive from place to place. We need our devices to be present and charging too.
But not only is it EXTREMELY unsafe to be on our phones while driving, it is also illegal.
You can get a basic charging cable, but often those are a pain to plugin, and your phone is not secured anywhere but maybe in your lap.
Well our Qi charger mount solves all those issues at once.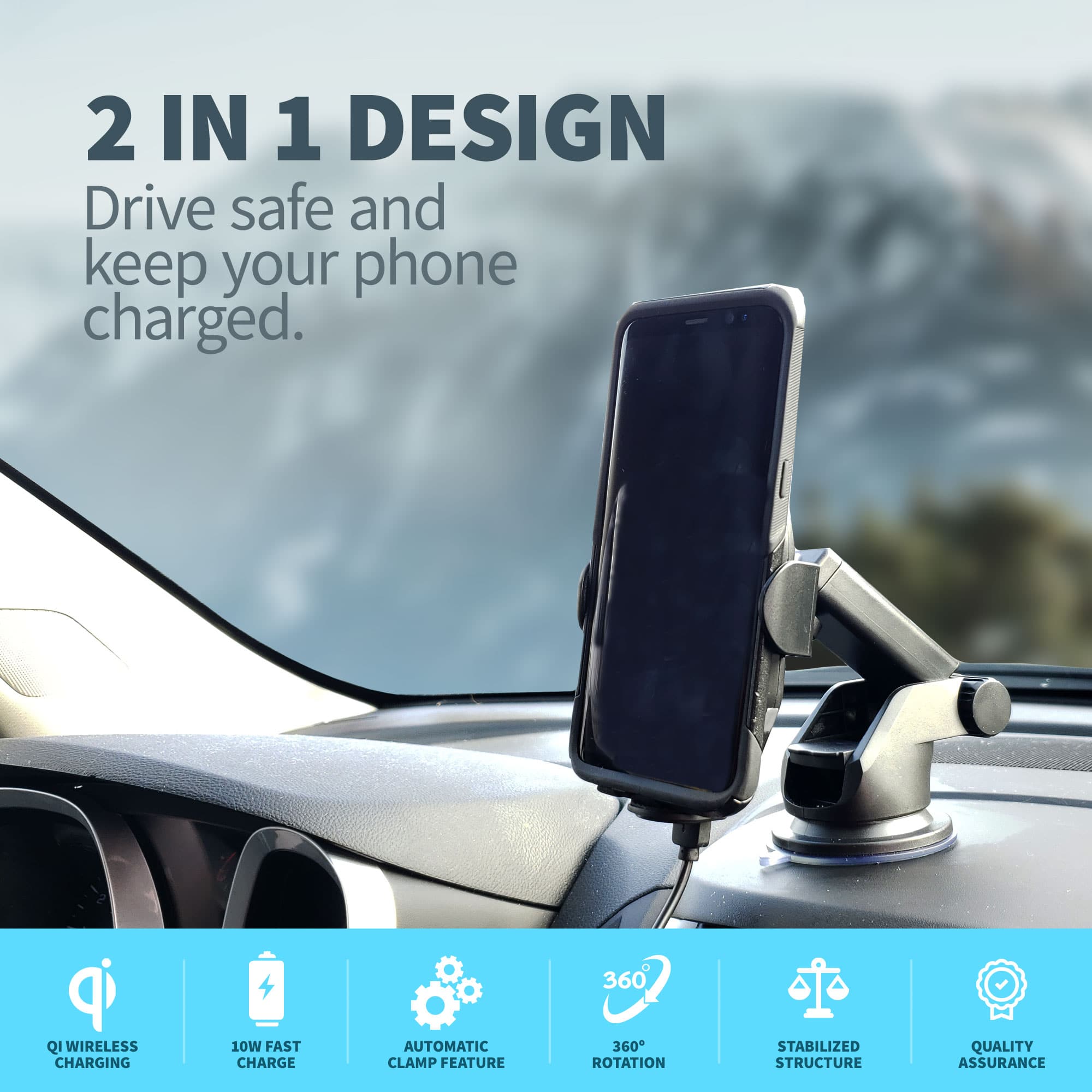 Be able to securely mount your phone with the best access for you, whether that be on your windshield, dashboard or even an air vent. You will now have your phone accessible while allowing you to charge your phone, glance at your device with your eyes still on the road and receive hand free calls with ease.
Here are a few of the features of this device:
Universal Qi Wireless 10W Fast Charging
Made to be compatible with any modern phone that accepts Qi wireless charging. This includes compatible iPhone 11/11 Pro/11 Pro Max/Xs MAX/XS/XR/X/8/8+ as well as Samsung S10/S10+/S9/S9+/S8/S8+
Smart Technology Automatic Sensor
Automatically opens and clamps on your device to keep it secure and easily accessible. With just a single touch on the side and you can unlock it to retrieve your phone.
Hands Free & Fully Adjustable
Keep your device fully functional while remaining charged using your favorite apps on the go. Easy to use GPS & hands-free calling while driving, keeping your distractions at a minimum.
Charges through Lightweight Cases
No need to remove cases to use charger. Allows you to plug and go with little time needed to setup your device.
Strong Suction Cup with Lever Locker
No need to worry about suction cup failing and damaging your phone with our strong lever lock. Easy to place wherever is the most convenient for you.