The Sirius Survival solar powered charger is equipped with 4 foldable compact solar panels, which can recharge the battery pack itself under sunlight. You can also use a USB cable to quickly fully charge the battery pack ahead of your next adventure. The solar charging function depends on sunlight intensity and conversion rate.
By having 4 solar panels attached to your battery bank you can always have an alternative or emergency way to charge your devices when you have no access to a power source. An item with this capability can be essential in a survival situation. Situations such as being lost in the woods and being able to keep your phone or GPS charged to find your way back out. This is also great to have on hand during storms that can cause power outages for extended periods of time.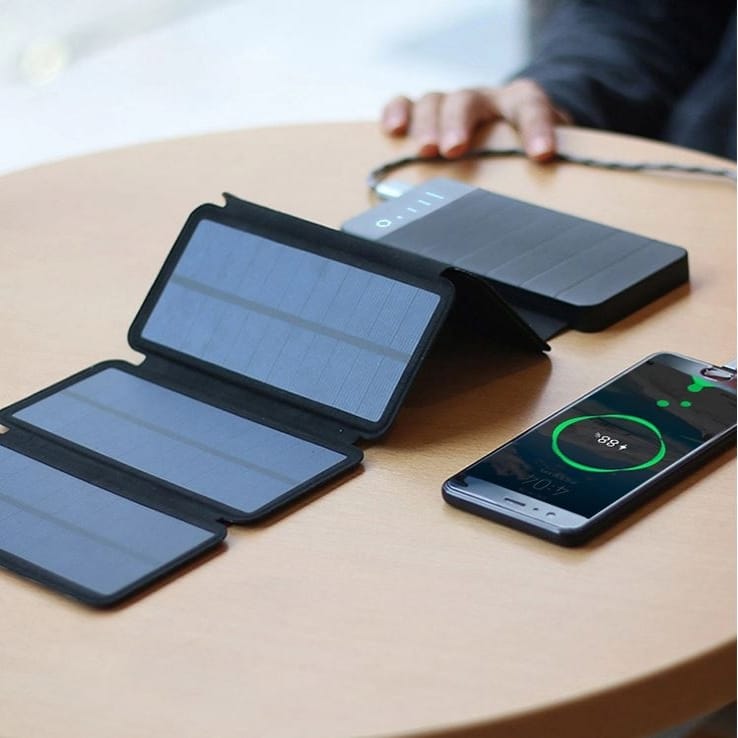 Dual USB ports offer 2.1A high speed charging and allow you to charge 2 devices simultaneously. Compatible with all phone models
Rugged construction with waterproof, shockproof, dust-proof, very suitable for camping, hiking or other outdoor activities.
Specifications:
Material: mono-crystalline solar panels
Capacity: 10,000 MAH
Input: 5V, 2.1A
Output: 5V, 2A/1A
The Sirius Survival solar power bank is compatible with almost all the 5V devices as iPhone, iPad, Samsung, Sony, Huawei, HTC, LG, Nexus, Tablet, camera, Bluetooth, GPS and more
This solar panel portable charger is perfect
for any of the following situations:

Camping
Hiking
Boating
Travelling
Beach days
ATVing
Emergency Situations
Cookouts
Survival Bag Necessity

Use & Operation
Our folding solar panel power bank is meant to be very easy to use and operate.

Power Bank Charging:
The battery bank can be charged via the provided micro-USB cord, or via the solar panels.
When charging via solar, the display section of the battery will illuminate with a green sun and the blue bars will flash indicating it is charging.  Please ensure all panels have good clear sun, no shadows or shade.
When charging via USB, there will be no green sun, only the blue cars will flash indicating charge.  We recommend using a low amp USB port/plug, not a higher amp speed charger.
Please note:
Charging via USB is the fastest way to re-charge the battery bank.
4 Steady Blue lights indicate full charge – each bar represents 25% charge.
Your battery bank will usually arrive with a 50-75% charge.
Power Bank Output:
To use the power in the battery bank is very easy, simply plugin your USB device and press the power button on the side one time.  The screen should show a number of blue bars indicating its charge level and your device should begin charging.
LED Light Use:
To activate the LED Light on the back of the power bank, simply press and hold the power button until the light comes on.  The LED includes 3 modes:
Steady On (this is the state after one long press)
Slow Flash (press the button once when light is on)
Fast Flash (press the button twice when light is on)
To turn the light off, you must cycle through each mode, so press the button 3 times when the light is steady on.
Bank Removal From Case:
The battery bank can be removed from the solar panels if desired – it simply snaps in and out around each corner.  We recommend removing one of the top corners first.