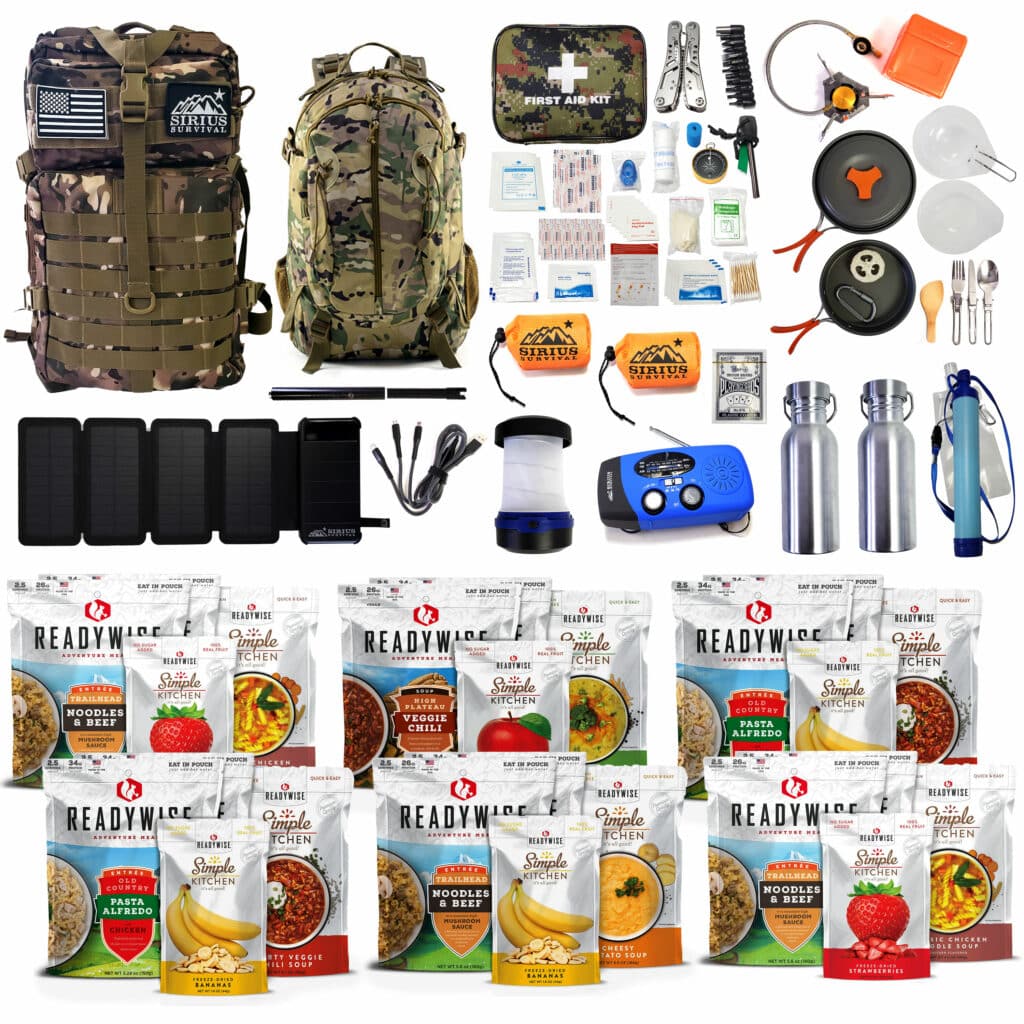 The Goods - What's Included and Why:​
Delicious, easy to use, and very long lasting (some up to 30 years) U.S. Made Readywise food.  Readywise is the gold standard in long term food rations, using both freeze drying and dehydration to preserve their food.  It's surprisingly delicious and simple – most just require adding boiling water.
Around 1400 Calories Per Day, Per Person, for 3 Days/72 Hours.  Consisting of a soup, 2 main courses & and fruit snack (all packed separate, resealable) Examples: Chicken Noodle, Lasagna, Mac & Cheese,  Pasta Alfredo, Noodle & Beef, Chili, Strawberries, Apples, etc.
A portable, easy to use camp stove and mess kit with pots and pans, utensils, bowls, sponge.
Ultra purification water filtration device.  We don't include actual water for many reasons, check below to see why and how this benefits you.
2 x Stainless Steel 17oz Water Containers (empty)
Makes storing and moving water easy, can also be used to boil water.  Super durable.
The basics are well covered, things like bandages, gauze, alcohol wipes, gloves, q tips, etc. 
Premium Stainless Steel Multi-Tool (with screwdriver bits)
Likely the most versatile tool out there.
Easy, cheap and fun way to pass the time.
Compact 4 Panel Solar Powered USB Battery Bank
This is probably one of the most over-looked yet important items that should be in everyone's kit, but never is.  This unit both stores & produces power from the sun so you can keep things like your phones/tablet going.  When grid power is unavailable, keep the panels in as much sun as possible to keep its internal 10,000mAh battery charged.  You can charge your devices while its charging, or even from its internal battery at night.  In today's modern world, having a charged phone is almost a necessity.  No more low battery fear.
1 USB cord can charge anything that accepts MicroUSB, USB-C, or Lighting.  This covers every old and modern phone/tablet.  Plugs directly and easily into the included battery bank, giving you everything you need except your phone itself.
Emergency AM/FM/NOAA solar or crank powered weather radio
Keeps you in the loop, stays powered regardless of grid power.  Included a light and can be used to charge USB device likes phones.  Can re-charge via included power bank also.
Provides plenty of light while not being dependent on grid power or one time use batteries.  Charges in the sun or via USB.  Can re-charge via included power bank.
Premium 50L Expeditionary Backpack
Truly a premium, high quality backpack you can depend on.  Made from high density (900D) Oxford fabric, this bag holds up in just about any weather or situation.  It's the perfect way to store your food/gear but keep it easy to move and go with.
This kit includes too much for just one large pack, this secondary pack makes splitting the load between 2 people easy.  We generally recommend the food in the larger pack and the gear in the smaller pack.  It is possible to fit everything in the larger pack, but there is literally zero room for anything else like personal items or more water.
Electric Long Neck Plasma/Arc Fire Starter
No fuel, no flame, but can start anything matches can.  Endless re-charges.  Perfect for candles, campfires, grills, whatever.  Can re-charge via included power bank.
 Often over-looked, hygiene is always important, even in times of disaster.  Also can be used as a creature deterrent.
Great for signaling/communication
A survival staple if you're on the go.
When all else fails, striking this rod produces enough sparks to start tinder for a fire.
Mylar Space Blanket 82" x 52"
Reflects body heat to help stay warm, reflective for signaling, large enough for small shelter.
Good for cutting small branches
A checklist for contents, general use guidelines, other tips and recommendations
What's not included, or what should I add?
Water – We don't include actual water for a few reasons.  Most notable, it doesn't make sense for you to pay for pre-packaged water – it's significantly cheaper to get bottled water/jugs at the local store to keep with your kit, and it tastes better.  Also – water containers/packets often break in transit, ruining the other contents and/or preventing delivery entirely.  Lastly, we include a survival water filtration straw that enables you to drink just about any standing water – even water from a muddy puddle (yes, we've tried it).  Finding water in a disaster generally isn't hard, finding potable water is.  This straw makes almost all water drinkable (streams, ponds, puddles, etc.).
Stove Fuel – We don't include fuel as it requires special shipping and handling.  We recommend purchasing something like a Gasone Propane/Isobutane fuel, they can be purchased online or instore.
Medications – It's cheaper and better to personalize these, should you want to keep some with your kit.  Plus most people have these on hand already, so why pay for more?
Personalization – whatever you think may be important to have in your kit.  We think we covered everything, but everyone's situation, location is different.
Just about anyone, but with a focus on family, comfort and flexibility.  This kit was designed to be easily portable as disaster has many unknowns, but ultimately was designed for 3 days of comfort largely staying in place.
Disasters that holds you in place are often short lived, meaning 3 days are generally what's needed before more resources can be obtained.
That being said, this kit contains a LOT of food – meaning you could easily ration beyond 3 days – with adequate water, humans can live up to 2 months with zero food. 4200 calories total per person would extend that significantly, but certainly wouldn't be comfortable.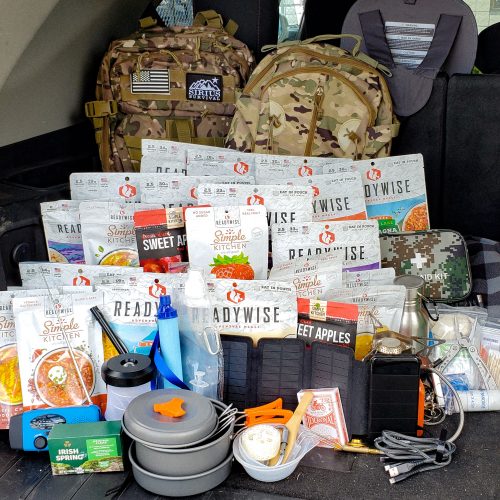 More About the ReadyWise Food
Unfortunately, few to no family survival kits actually include enough calories, food and options.  When shopping for kits/food rations, we encourage you to research how many calories they include, it's likely less then they imply.  In addition to that, many are cardboard like tasting bricks.  Yes you'll survive, but you won't be happy or comfortable.
On average, most Americans consume about 2500 calories each day.  The US government recommends at least 1200 per day to survive during an emergency.  Most survival food kits are well below this.  We go above and beyond, if you're with kids you know how hungry(and miserable) they can be.  Each kit contains 4 courses per day per person, totaling about 1400 calories each with a good amount of variety.  A soup, 2 main courses, and a fruit snack. 
You'll receive a random variety from the following:
Soups: Veggie Chili, Chicken Noodle, Cheesy Potato, Creamy Cheddar Broccoli
Main Courses: Teriyaki & Rice, Noodles & Beef, Lasagna w/ Sausage, Creamy Pasta & Chicken, Veggie Chili, Pasta Alfredo, Mac & Cheese, Breakfast Skillet, Wild Rice Risotto & Vegetables
Snacks: Bananas, Apples, Strawberries, Coconut Blueberry Multi-Grain, Apple Cinnamon Cereal, Cookie Dough Bites
Shelf Life: Main courses (most of the calories) have a printed expiration date good for 12-15 years.  Soups & Snacks are about 2 years, but should last much longer when stored correctly.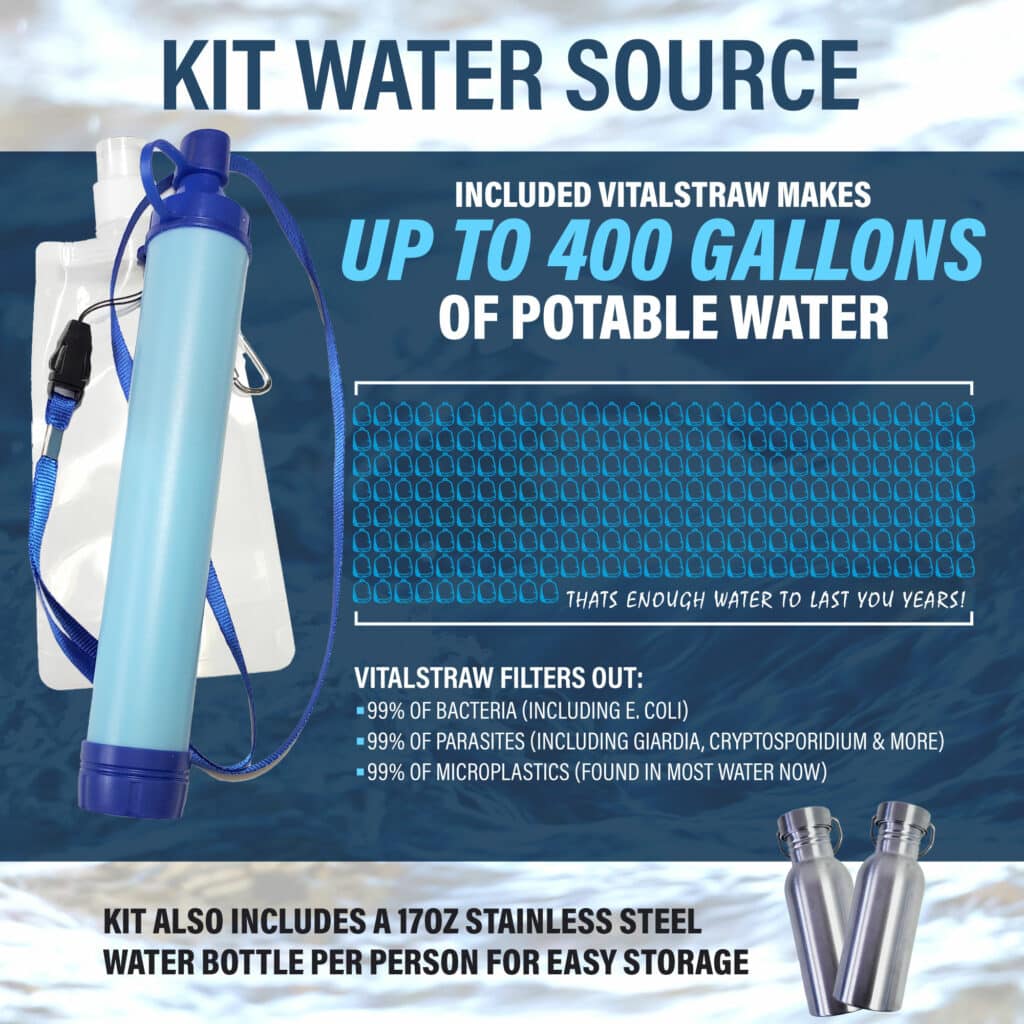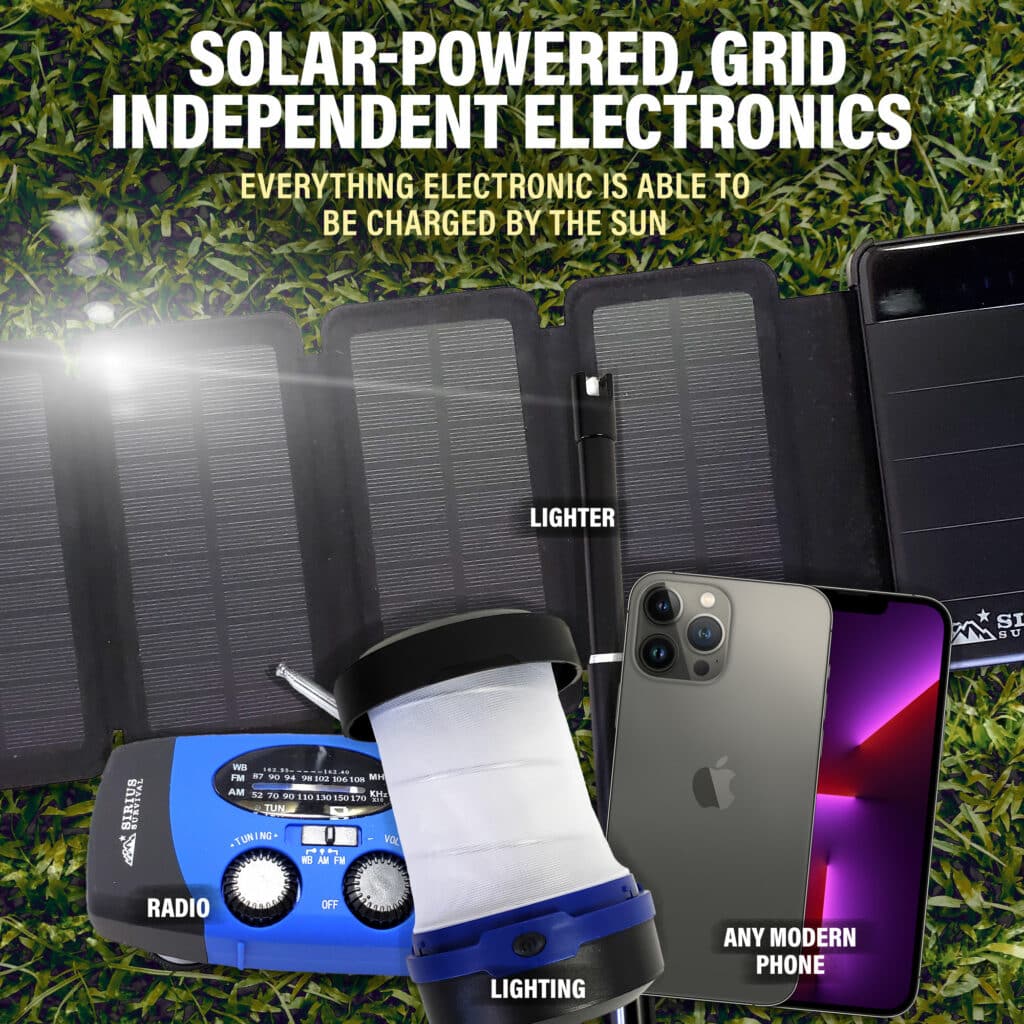 A focus on (renewable) Solar Energy, Grid Independence
More often than not, if you need this kit, you're probably without power.  The timetable for getting power back is probably unknown.  For this reason, anything electronic in this kit can be re-charged via Solar power.  No additional, one time use batteries are needed.  At the heart of this is the 4 panel power bank, enabling you to charge anything you would normally charge via a typical USB port.  Note that most phones etc. come with a wall plug to USB adapter – you simply ditch the adapters to use this.  Your lighting, radio, phones, etc., just keep on working without the grid.  Make important calls, look up news, play games or watch movies, all without low battery fear.