For the majority of us our Dogs are like best friends and members of the family. We keep them safe and sometimes they do their best to keep us safe in certain situations. The new Sirius Survival Tactical Dog Harness is the perfect addition to your dog's daily adventure gear. Made out of 1000D Nylon material one of the toughest materials on the market. Which is meant to withstand years of wear and tear while still being lightweight and most importantly breathable. This tactical Dog Vest features lots of padding without sacrificing airflow this tactical K9 harness will be comfortable for your dog while on the move. The padding and design features fit comfortably on your dog allowing them to move freely for extended periods of time either while on the job or on a weekend adventure in the mountains. Featuring a center mount metal D-ring on the top of the Tactical Dog Vest to securely attach your leash to.
Vest features
Quick release side buckles
The buckles are located on each side of the tactical dog vest near the belly. These tough plastic buckles will all you to quickly and easily take this military dog harness off and on.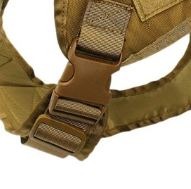 Velcro Side Panels
Multiple Velcro panels are located down each side of the tactical dog vest. These easily alloy you to securely put morale badges or a name tag on the side making it nice and visible for the public to see and be aware. This is a great spot to attach a "Service Dog" patch if necessary.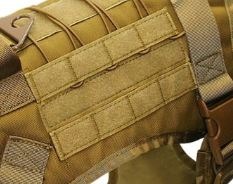 Molle loop System
Located down each side of the vest are two rows of Molle loops or (Modular Lightweight Load-carrying Equipment) A molle dog harness will allow you to attach accessories such as bags, pouches, or water bottles to the side of the tactical dog vest for your dog to easily carry. A great example is attaching a small first aid kit so it is easily accessible.
Elastic Rope
On the topside of the tactical dog vest there is an adjustable elastic rope. Easily secure items underneath it such as water bottles. Or this can be used to tighten the vest if you need to fine tune the fit of the vest around your dog.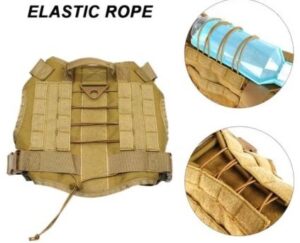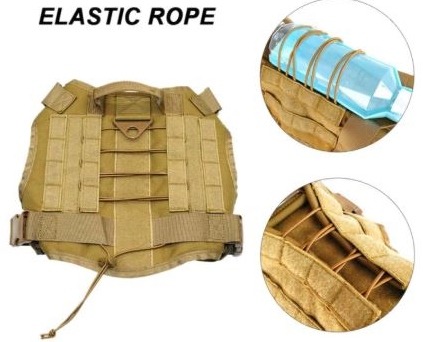 Top mounted handle
This durable and strong handle on the top of the vest lets you, grab, lift or carry your dog if needed. This feature works great wile on a hike if your dog requires assistance getting over specific rocks or other terrain. The location makes it a safe and comfortable lift for your dog and also makes it easier for you to have a handle to lift them with.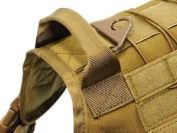 Quality Stitching
Expertly stitched with high quality threads at every joint and load bearing point to ensure a safe functional tactical harness that is built to our standards and made to last.
Great for: Service dogs, Police and other law enforcement K9, Hunting dogs, family pets on outdoor camping and hiking trips.  
Multiple Color Options: This tactical K9 training vest is available in multiple color options such as: Black, Tan, and Green. Please note that the shade of the color you receive may vary slightly due to the lighting in the pictures.
Purchasing / Size guide
Before purchasing one of our tactical dog vests please take the time to check out the sizing chart we have put together. You will need to take the chest, neck, and back measurements of your dog in order to follow the sizing guide provided. A proper fit is necessary for your dog to enjoy wearing this harness. Once you have the sizes you will choose from the closest size available either in Medium, Large, or Extra Large.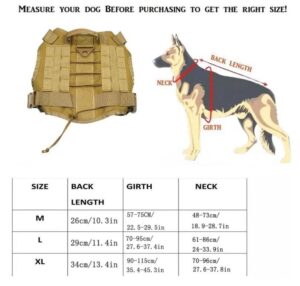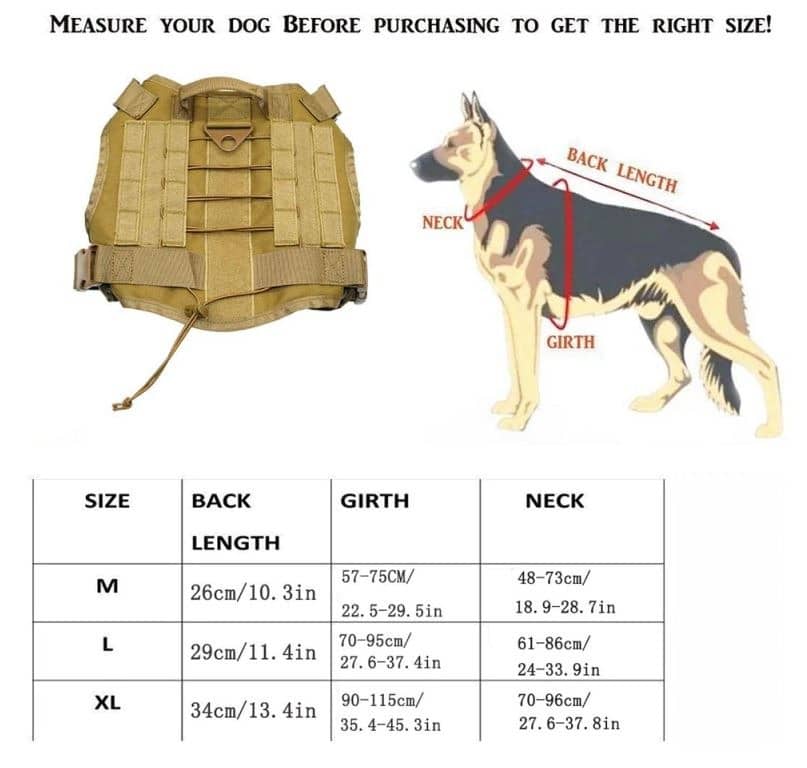 Don't sacrifice quality when it comes to a harness for your dog. The Sirius Survival Tactical K9 Vest is made of durable material meant to withstand both work and fun. Practical features, versatility and extreme functionality for outdoor recreational activities or just that tactical look you and your dog are going for.