If you ever find yourself sleeping outside in the winter you're either a die-hard camping fanatic or a survivalist. Many people do actually camo in the winter months.
Back in 2016, over 40 million people went camping during the year. These statistics were pretty evenly spread out between the summer months and the winter months. This might be because there are especially fun activities you can only do when it's icy and cold out. Ice fishing, snowmobiling, and snowshoeing are just to name a few.
If you are headed out into the wilderness in the colder months you better believe that you can't use the same tent that you use when camping in the summer or spring.
Your light-weight tent just isn't going to get the job done. I mean, I suppose any tent (or shelter) is better than none at all, but if you have the option and the means I definitely recommend getting a cold weather tent.
How To Choose
You better believe that not every tent is right for every situation. Depending on your location, your needs, how you long plan on staying out, etc. you'll want to be sure your tent fits certain requirements.
Before purchasing a cold-weather tent, or any tent for that matter you should answer a few questions.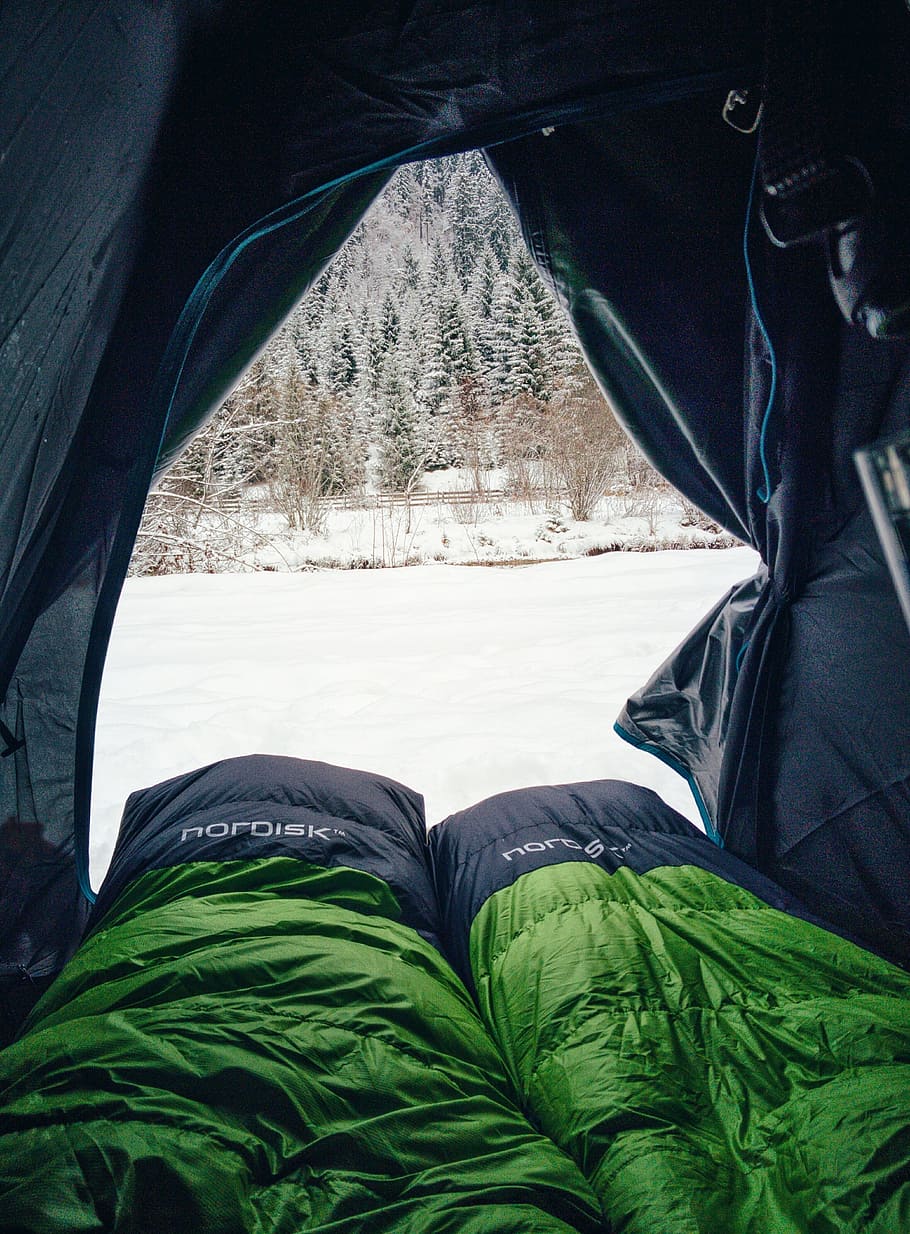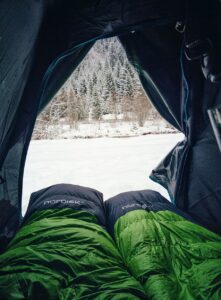 What am I using this for?
You are probably rolling your eyes and answering, um, camping? Right, we know, but more specifically. Are you headed to the Arctic tundra? Are you hanging out in your backyard during a February blizzard? Are you exploring the Yukon? These are important things to think about and will especially impact the size you may want to get.
How are you getting your tent to its designated location?
You're definitely going to need to think about how you plan on getting your tent to wherever you're going. Are you driving it up and simply unloading? Are you carrying it up a mountain or hillside? If you're going to e carrying it any sort of distance you're going to want to be mindful of its weight, and if you'll actually be able to physically move it.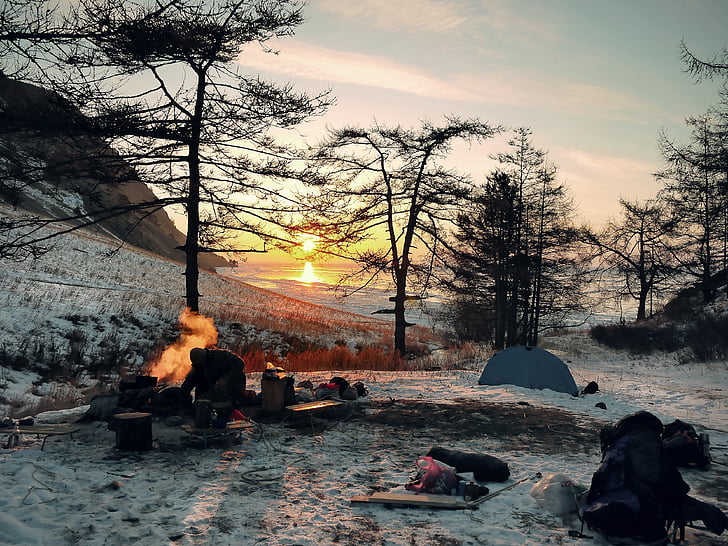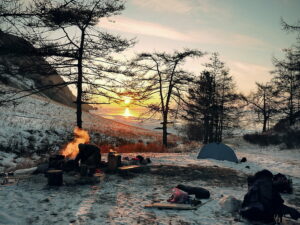 How many people are you housing?
Headed out by yourself? You probably won't need or want, a large tent. However, if you and your entire family and your 17 cousins are headed out together, you're definitely going to want to invest in a larger size. You should also keep in mind what type of gear you're going to be storing. What will be kept inside the tent with you? Do you need space for storage?
Best Cold Weather Tents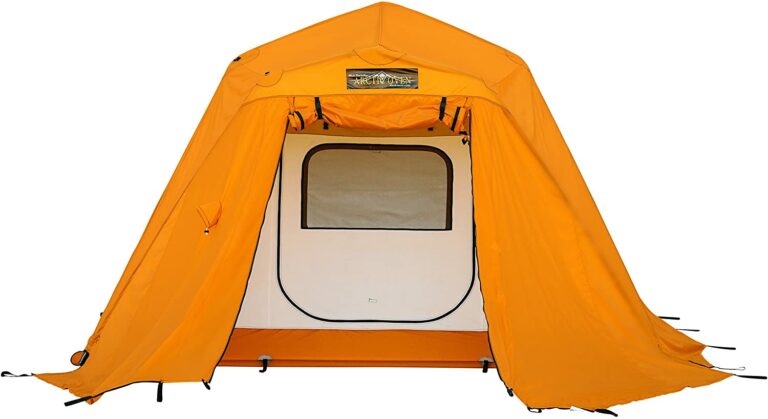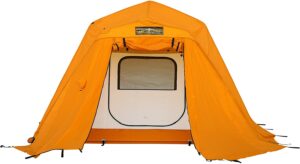 One of the absolute best winter camping tents out there. This tent is 12′ by 18′ and can hold up to 10 people. If you're headed out with a group of people this should definitely be on the top of your list too. There is so much space in the tent and I've even been told that in freezing temperatures the tent can actually trap enough heat to make you feel warm and need to take off layers instead of putting more on.
This tent comes with several options that can impact the pricing quite a bit. The moral of the story though, this one keeps you warm! It's wind-resistant and super durable, not to mention incredibly spacious.
The bad news is how heavy it is. This sucker weighs over 100 pounds.  So if you're hiking to your location, this probably won't be the tent you're going to bring with you. It is also a bit of an investment if you are going with any of the extra features. If you're looking for a cheap tent, then keep looking because this isn't it.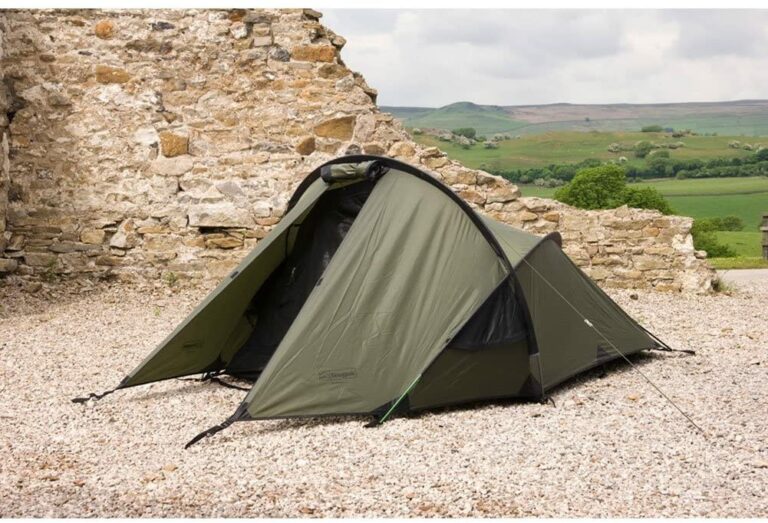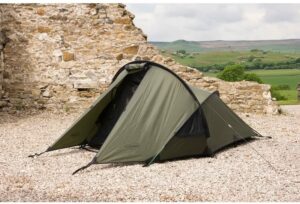 Definitely on the smaller end, this tent only has enough space for two people. This means it's perfect for someone who isn't lugging a ton of gear with them. It has a heavy-duty waterproof Ground Sheet that gives you protection from the snow and rain. It's built for long exposure so don't worry about how long you're out there.
The best thing about it though? It's only around 5 pounds. Yes, you read that right. This makes this the ideal tent for backpackers or anyone hiking to their camping destination. It's incredibly light so it's easy to transport.
We've heard that it actually keeps you incredibly warm, even if it's just one person inside, due to the two small vents in the front. This may not be the best option for summer camping due to that factor. We've also heard that the zippers can be a bit finicky. But if you're hoping to only spend a few hundred bucks, have a great all-seasons tent, and be able to quickly set it up, look no further.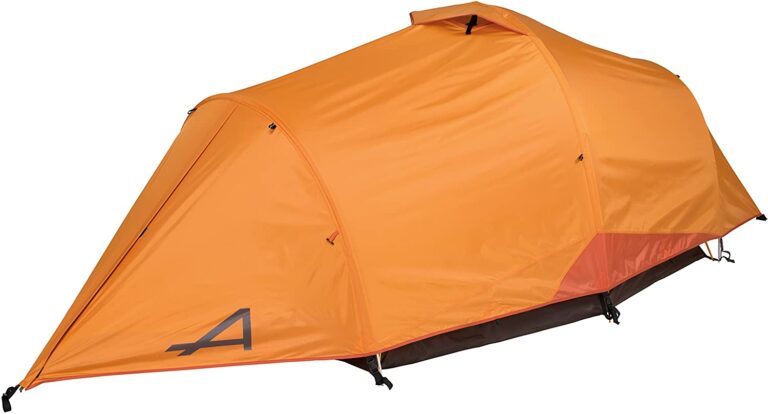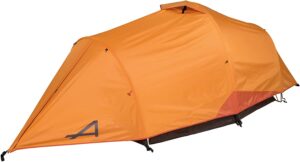 Known for being lightweight (although it's actually pretty heavy if you're trying to carry it yourself) the ALPS mountaineering Tasmanian is ideal for three people. It weighs just over nine pounds so carrying this thing a long distance might not be ideal. It has a small dome shape that keeps it warm even in the winter. It's cost-effective and won't break the bank.
It has a water-resistant and UV-ray resistant fly and has a pretty easy setup process as well. It's also lined with mesh pockets for optimum storage. Although it's a bit more pricey than the SnugPak you're getting more space. If you're looking for a multi-person tent this is definitely one to check out.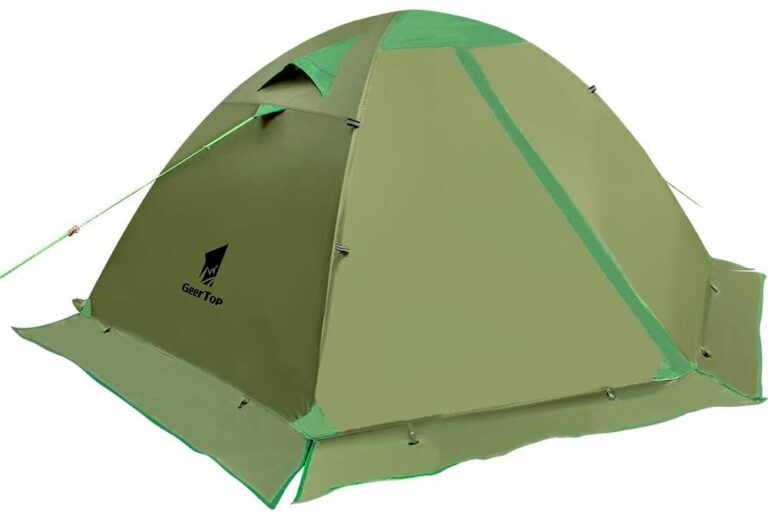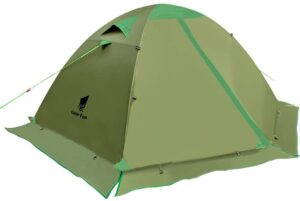 This is a relatively new brand on the marketplace but that definitely doesn't mean that they aren't making a top-notch product. Geertop has an incredibly durable shell that protects you from snow or water. It has a two-layered design that's anti-rip and as mentioned before, water-resistant.
It's great for just two people and can be used for all 4-seasons. Weighing in at just about 6 and a half pounds this is more lightweight than some of the other ones on the market. Even though it's ideal for only 2 people this tent has door entries/exits. It also fits nicely into its carrying bag once it's packed up.
The only downside, similar to a few of the other tents on this list, is that the zippers don't seem to be of great quality and can be troublesome.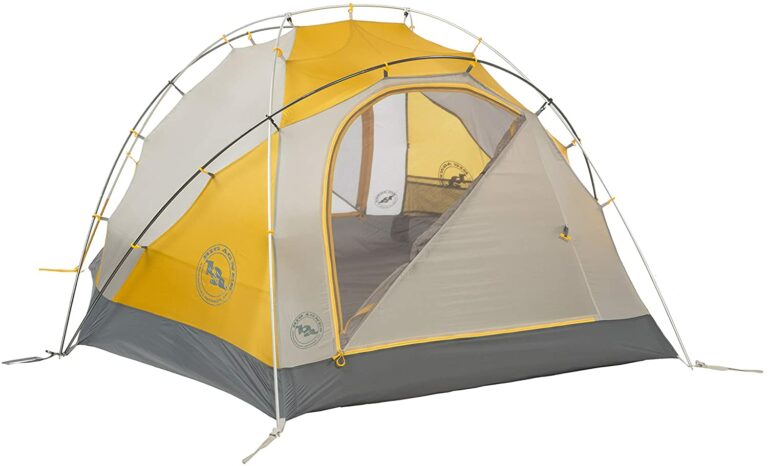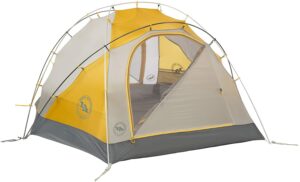 Created with materials ideal to withstand high-alpine adventures this tent uses fly polyester ripstop. This material increases tear strength but over 20% of the standard polyester. This means it can withstand more rugged conditions.
Definitely more expensive than some others on this list because it's for the more intense campers – you may not need all this if you're not a high-alpine camper.
No matter what you choose to go with for your winter camping tent you'll definitely have an experience. I can guarantee you'll have a much better experience if you're staying warm and dry in your new tent. Be sure to do your own research before purchasing in order to the right tent for you and your needs.