You know that if you head out camping you might want to be carrying a camping shovel with you. There are many uses for a shovel including the most obvious one – digging a hole. Shovels can be incredibly bulky and heavy so that's why grabbing one that is specific for backpacking or camping is ideal. Below we break down our top 5 favorite camping shovels.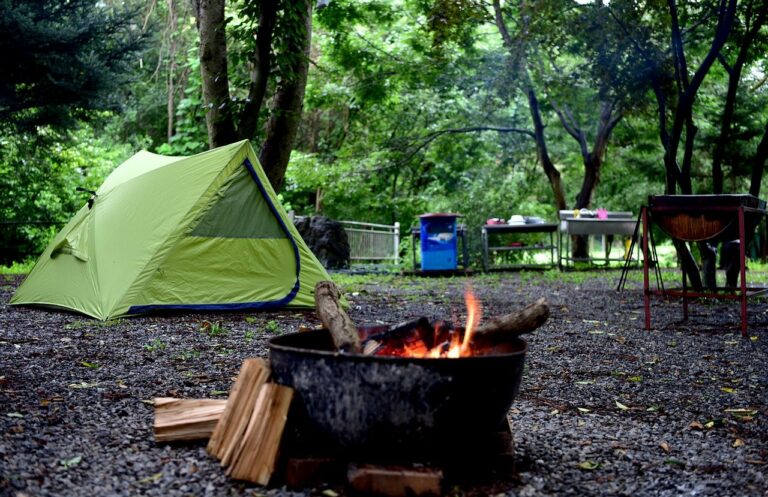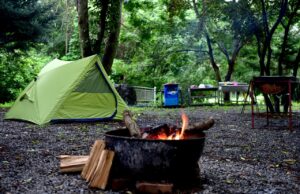 Number 1: SOG Foldable Survival Shovel
Starting off in the number one spot is the SOG Foldable Survival Shovel. We know that SOG is a Seattle based company that specializes in knives and multitools for survival. They now have this survival shovel that is foldable, lightweight, and incredibly compact.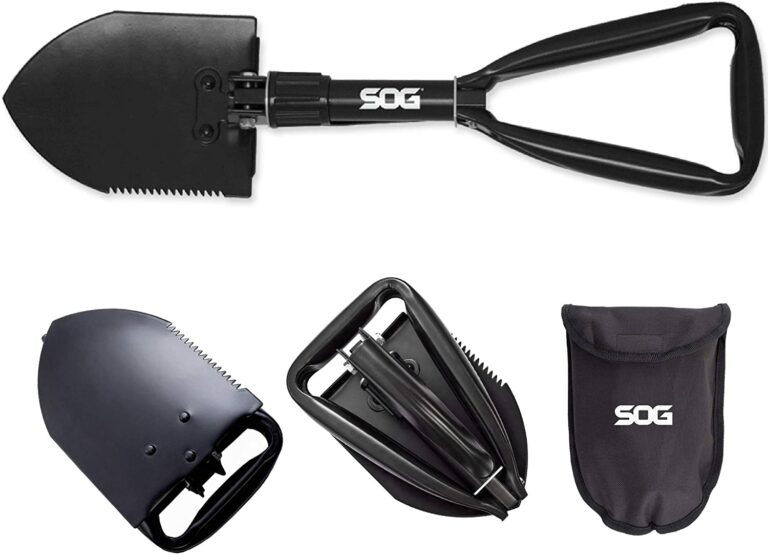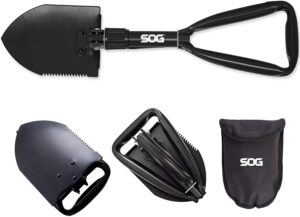 It comes in and just about 25 ounces so it's lightweight and easy to pack. It not only includes the shovel but it also has a sawtooth and a hoe. The nylon sheath also comes with the shovel as well.
Amazingly enough, this tiny shovel is just about as big as your hand, so if you're searching for something big and heavy, this definitely isn't the product you're looking for. When unfolded it's approximately 18 inches. It's super durable and made of high-carbon steel.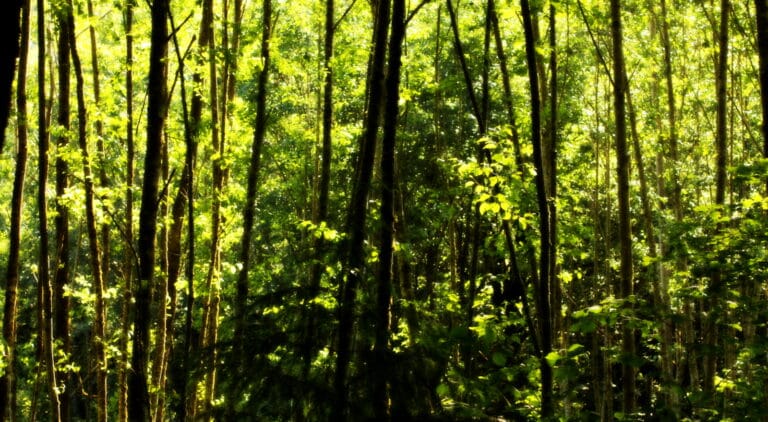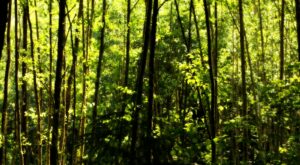 These shovels are made to last, however, if you're looking for something to help dig up a tree or something a lot more intense, this probably isn't what you're looking for.
Number 2: Blackpig Folding Camping Shovel
In our second spot, we have the Blackpig Folding Camping Shovel. This shovel has so many uses it could actually be considered a multi-tool. It not only offers digging and sawing abilities but it can also serve as a compass (built into the top of the shovel's handle) and a bottle opener.  It's super portable because it can be folded down into two parts and is very lightweight – coming in at about 12 ounces. It's great for packing in a backpack or carrying on a belt.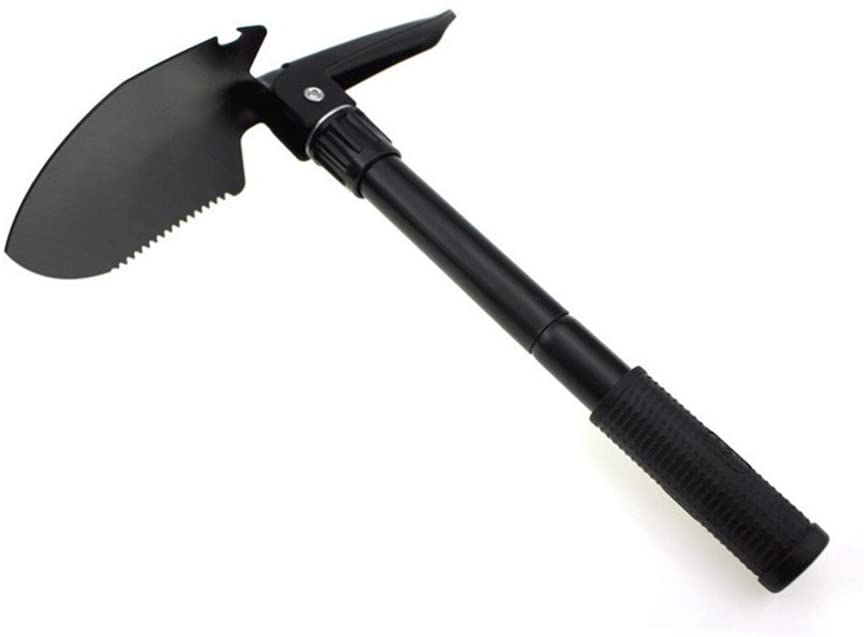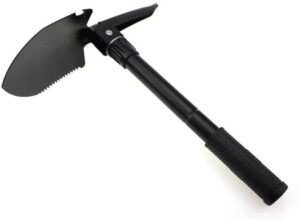 It is pretty small, granted it's only about 12 bucks, so again you get what you pay for. But for basics, and a few other cool capabilities, this shovel is where it's at. If you're only planning on needing a shovel in case of an emergency then this tiny little guy will be perfect. The small size makes it ideal for storing in a backpack.
Number 3: Coleman Folding Shovel with Pick
Next is the Coleman Folding Shovel with Pick. Not only is this shovel just twenty bucks but it has tempered forged steel components for durability. It also includes a carrying case. When folded up, the dimensions are about 7 x 4 x 2.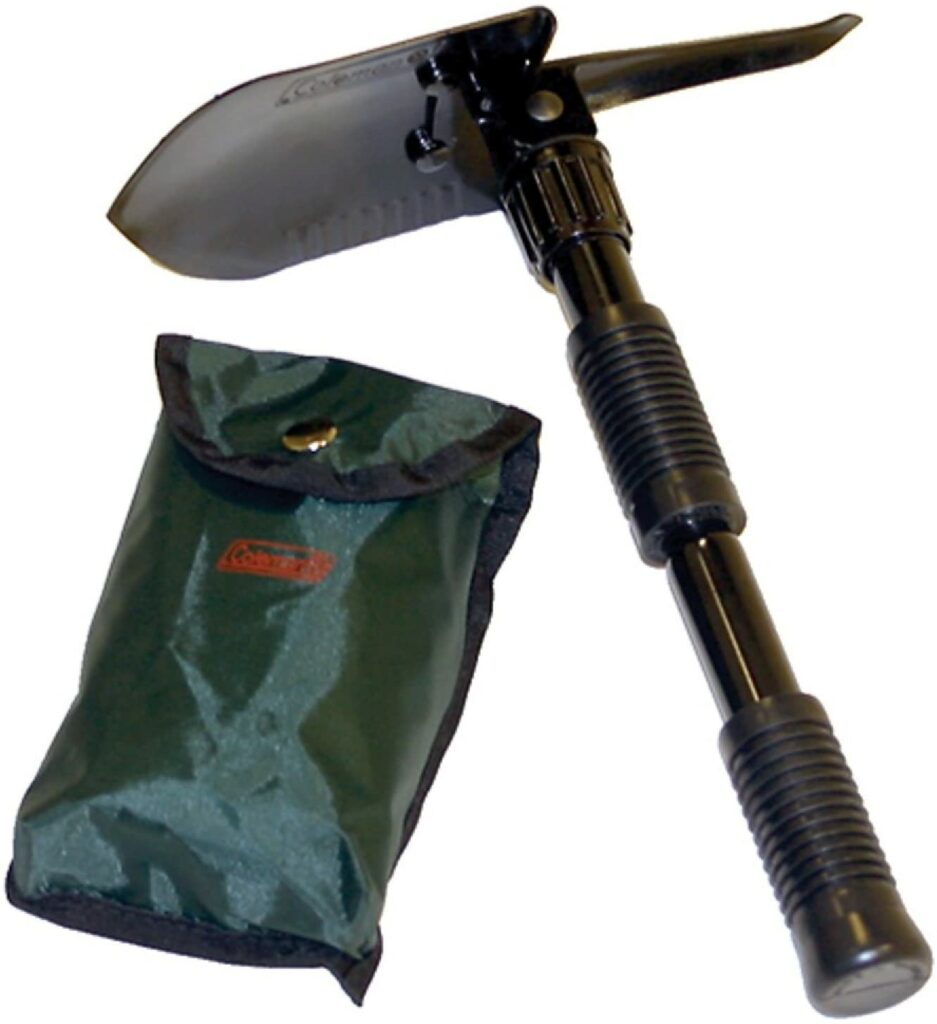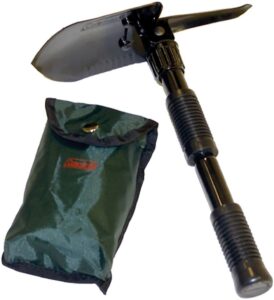 This shovel is perfect for digging out roots or rocks to clear a campsite. It fits nicely into the carrying case for easy storage and transfer. Once it's folded out completely it's a little over 16 inches and locks into place for added safety.
After you're done camping for the season, throw this little guy in your car for safekeeping. You may need to dig yourself out of the snow someday.
Reviews have said it is super light and easy to use. There are reports that this isn't for any intense digging. You get what you pay for and if you just want a quick and easy shovel to have in the case of an emergency then this is the one for you. If you plan on using this often or to do any extreme digging, like digging a fire pit, etc. you may want to spend the extra money and get one that is more durable.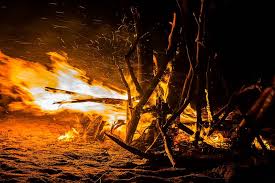 Number 4: KEJIH Folding Shovel
Coming in at number four is the KEJIH Folding Shovel. This is the first shovel on the list that is more like a  "real" shovel because of the sizing. It is 38 inches in length and also has a hoe, blade, fish scaler knife, and several other capabilities. This shovel comes with multiple attachments and even has an extendable handle so it can be used like a longer shovel instead of a small-sized one. This truly packs a punch.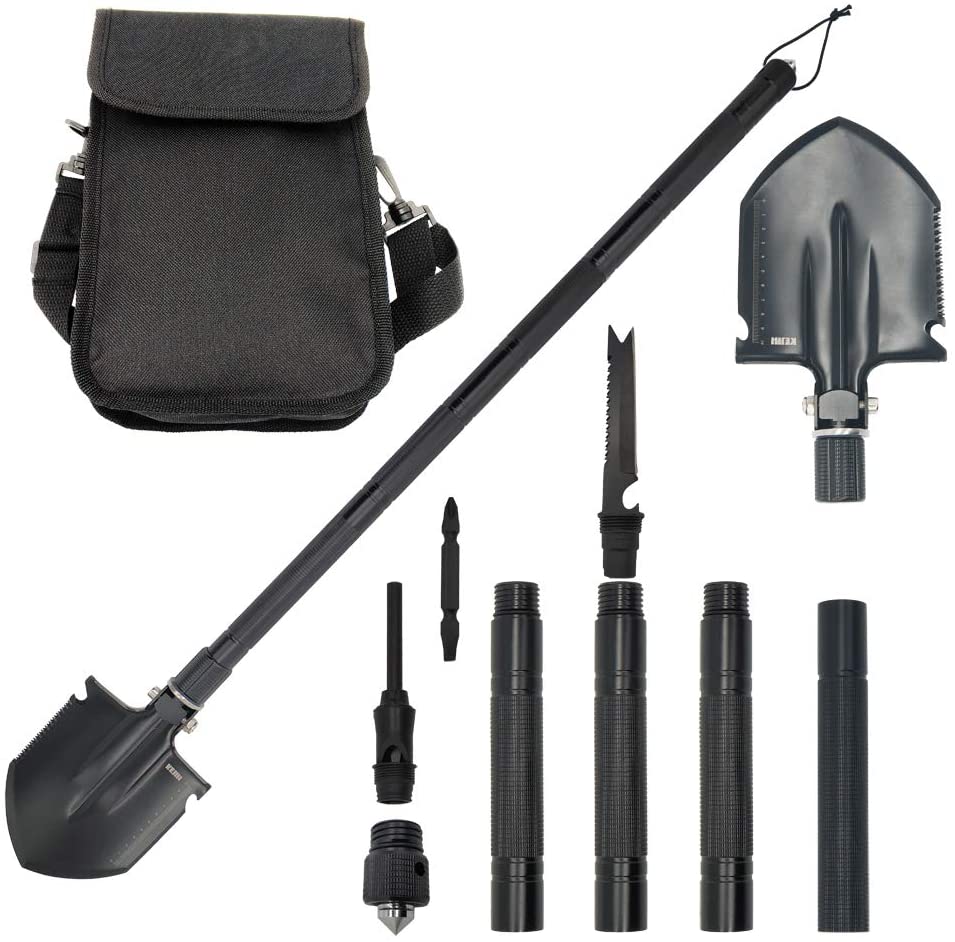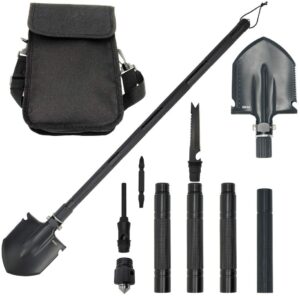 This is perfect for throwing in your pack when you head out camping and then tossing in your trunk during the winter months.
In addition to being versatile and compact, this shovel also comes with a lifetime guarantee. So any issues, if encountered, will be rectified by customer service.
Number 5: FiveJoy Military Folding Shovel Multitool
In our 5th spot, we have the FiveJoy Military Folding Shovel Multitool.  FiveJoy is a US-based company that is known to produce hear for hiking, apparel, and outdoor kits. This particular shovel of theirs is lightweight, practical, and offers great quality.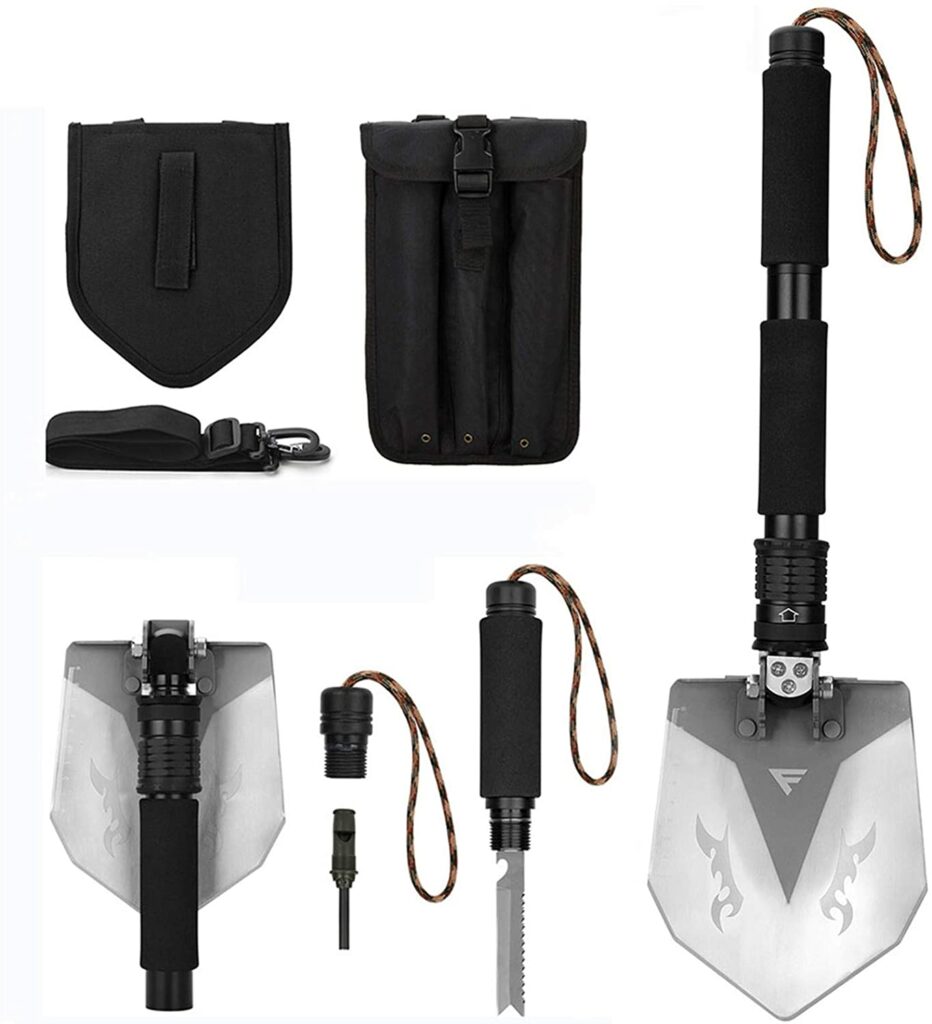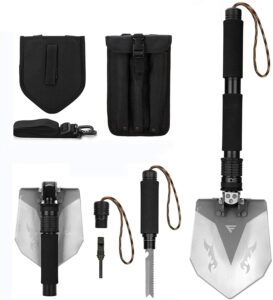 In addition, there is also the option to purchase an additional extension to the arm which increases the length of the shovel. The carbon steel, which is rust and water-resistant, that this shovel is made out of is built to last. It's about 21 inches long and weighs in at just over 2 pounds. It also has capabilities to be a hoe, saw, ax, and hammer. In addition, if you unscrew the hollow handle you'll find extra survival gear inside such as a bottle opener, a whistle, and a fire starter.
With all these various components this really is a great item to have. I'd say this shovel is more for someone who knows they will be getting a lot of use out of it.
The downfall of this item, it's pretty expensive.  They range right around 60-70 dollars. But if you find that you're needing a shovel pretty often this may be the way to go.
Depending on why you are wanting a shovel, for emergency situations while camping, or for more intense scenarios all of the above choices are pretty great options.